Music Hub
Check Ahead: Radiation City, 'Animals In The Median'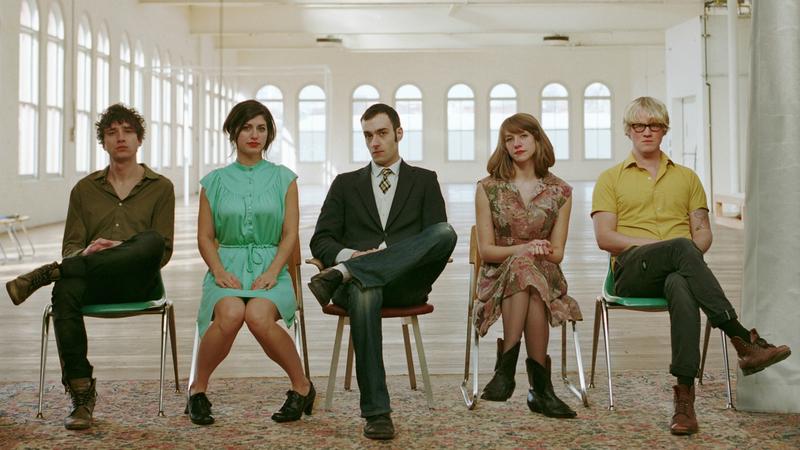 Romance at the workplace can be a risky proposition. Especially when your office is a touring van.
For some bands, like Fleetwood Mac, this has meant epic musical drama. The White Stripes managed to turn romantic disharmony into a thrashing success, for a while. Others, like Arcade Fire, make a pretty sweet harmony out of matrimony. Now, the Portland Oregon-based dark dream-pop band Radiation City is the latest to turn a love affair into an LP. The band features not one but two couples -- including singer/keyboard player Lizzy Ellison and her fiancé, guitarist/singer Cameron Spies.
When I reach Ellison at her label's office Portland, Oregon, she admits that mixing business and personal relationships isn't always the easiest thing. But the band has learned lessons that have sustained them through an EP and two full lengths -- including their new album, Animals in the Median.
Animals In the Median is full of detailed songcraft, beautiful arrangements, and lush, layered harmonies. Ellison says that the past two years were full of ups and downs for the band -- love, loss, and, yes, all that stuff that happens when two couples are in a band. The album cover, which you can see just above, is a collection of photos taken during those ups and downs. Images like a mountain top, a suitcase, and tracks in the snow serve as clues to help decode the songs. The photos are enchanting -- much like the album itself. Read on for more of my interview with Ellison.
Last week on Soundcheck, we asked musicians to tell us about their guilty pleasures in music. What's yours?
Mariah Carey. I grew up listening to her and probably was highly influenced by her vocal ability. I listened to her greatest hits, in the late '90s, on repeat all the time. Yeah. I was a superfan.
She can sing something like 5 or 6 octaves, which is pretty uncommon. I can't say that I try to be her or anything, but I definitely felt like it was a challenge to try and mimic her when I was younger and learn the inflections and the tones. I don't listen to her anymore, but I do try to reach super high highs and really rich lows when I'm recording and it's definitely due to having listened to her.
She has quite a range -- and so do you. Did you have any vocal training?
I pretty much started singing when I was about 5 years old. My mom was as singer as well as my dad. Around the house there was really good vinyl on all the time, and I would just sing along to Simon and Garfunkel and the Pointer Sisters. Then we got a piano and I was always playing piano and singing. It became kind of serious, when I was old enough to be in talent shows and whatnot. But lessons were never really my thing I guess. I didn't really have the patience for it.
How did Radiation City come together?
Cam [Spies] and I met about four and a half years ago. He was living in San Francisco. I had just moved back to Portland from Chicago. We were both in separate bands, and kept in touch long distance and pretty much fell in love. And I got him to move up here. We were continuing to have the two separate bands. [But] just through wanting to work together on music, we decided to form Radiation City.
This band has not one, but two couples – you and Cam, and Patti King and Randy Bemrose. That can be a tricky proposition, right? You're navigating two romantic relationships, and the band relationship. How does it work?
Yeah. I think at times it is a disaster. You're totally right. Being in a band you're putting yourself in a relationship with however many people are in a band. I can't say that it's totally different -- there's obviously personal conflict just between the couples. Cam and I can argue from time to time, but at the end of the day, we always put the band first.
We all bicker and argue just as much as any other band. But because we've experienced that side with other bands and perhaps they broke up because of it, I think we learned our lesson.
And now, you have your second full length, Animals In the Median, out next week. This title is quite striking -- I visualize a wild menagerie standing about in the middle of the highway…
That's exactly the concept. We were driving back from Seattle one time, and Randy and I were keeping each other awake. We both saw a baby deer fawn on the side of the road. Not on the good side of the road, but potentially on the hazardous side of the road. And it was still alive, and we kept driving -- I just wanted to believe that the deer would go into the median and coexist with all these other animals that had gotten lost by being stranded in the middle. And that they had this underground fortress. [I was] trying to make this beautiful scene so that I wouldn't be sad about this deer that was potentially going to die.
The whole concept kind of became this bigger picture because we travel a lot and we tour. You're always seeing the median on the highway. It kind of gets lonely when you're driving 8, 13 hours a day, and it's nice to imagine this sanctuary in between the road where this ecosystem exists. And then it became much more metaphorical, just being musicians -- we're the animals within this crazy world.
Tell me a bit about the album opener, "Zombies."
I wouldn't say it's making fun of the whole zombie craze, but it's pointing out that maybe we don't know everything. And if zombies came, we would learn to coexist. I mean, I understand that they eat people, [we're] just kind of playing with the idea of the possibilities.
The last song on the album, "Call Me," has kind of a bossa nova feeling. What were you thinking about when you wrote the song?
[It's] is sort of an homage to Brazilian music and bossa nova. When I was living in Chicago I had some moments listening to the Stan Getz and Astrud Gilberto album, and it'd be raining and I'd be drinking a martini by myself, and I loved that feeling of being completely immersed in this album and doing something beautiful at the same time. I tried to emulate [Gilberto] for a long time, and I realized that was not a good idea for any musician to try to emulate anybody else exactly. But I wanted to be able to instill that feeling for other listeners. And maybe they'll be drinking a martini in the rain listening to our stuff.
Audio is no longer available for this feature. Watch a video for "Foreign Bodies" below: