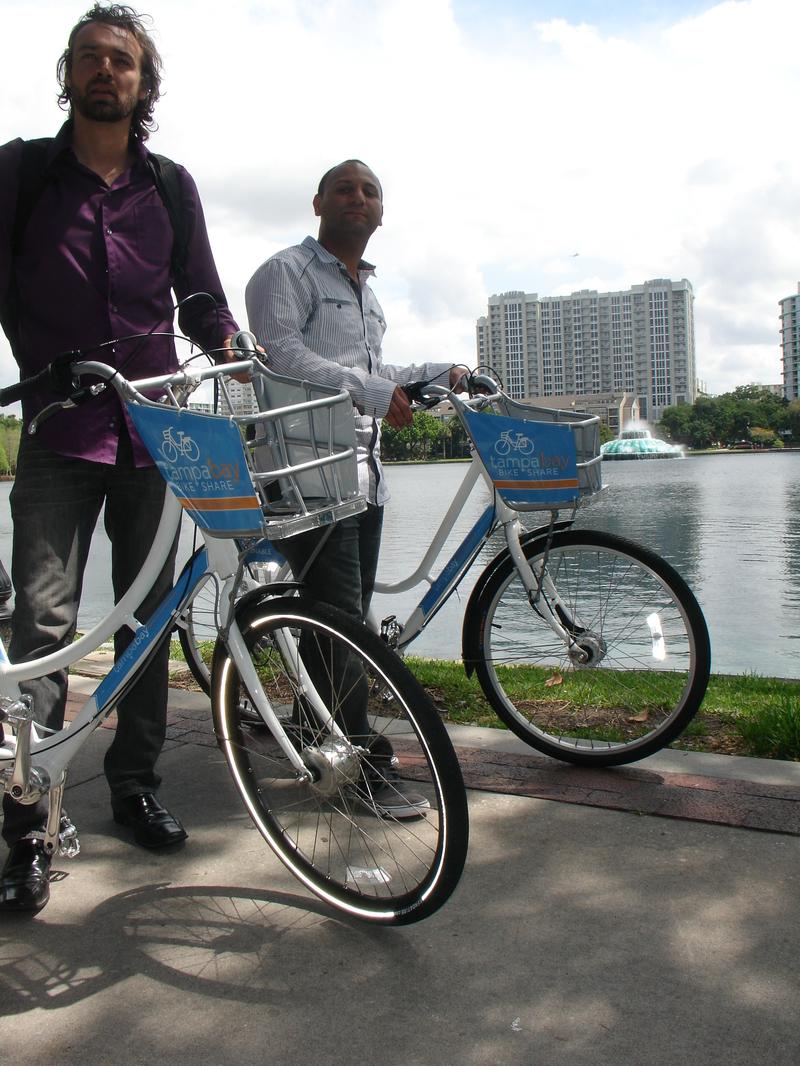 Orlando's transportation planning agency says the city could see a bike sharing system up and running by next spring, in time for Central Florida's SunRail commuter train, a program we reported on last fall. On Wednesday Metroplan Orlando's bike share working group got a look at bikes produced by one of the companies angling for a toe hold in Central Florida.
SunCycles founder Peter Martinez wants to bring bike share to Orlando. He aims to partner with the New York based company SoBi, Social Bicycles, which manufactures bikes with a GPS tracking system that can be located and reserved via smartphone. Martinez says he is also in talks with the University of Central Florida where he says the system could be used by staff and students.
SunCycles is not the only bike share company interested in Orlando. Metroplan's Mighk Wilson says a request for information last year got half a dozen responses. But, Wilson says the Social Bicycle system might be well suited to Central Florida because it doesn't require a kiosk. "If you have to put out kiosks which hold a dozen bikes or so, but you don't have the [population] density to support that, it's going to make for an underutilized system," he says. Outside of Orlando and Winter Park, Wilson says "the density really drops off, and the street network connectivity gets pretty sketchy too."
Orlando and the city of Winter Park are both considering a bike share system to complement the SunRail commuter train, a 60 mile rail line that's slated to begin service next year.
Social Bicycles CEO Ryan Rzepecki—a former New York City Department of Transportation planner—says his system is already in use with employees at San Francisco International Airport, in Sun Valley Idaho, and in Buffalo New York. Tampa is also rolling out a program with 300 of the bikes in fall 2013. Rzepecki says a similar sized system could work in Orlando too. "I think it could use at least that many, some 300 bikes, but that would be something we'll look at when we sit down to pull together a proposal." He says there's also potential for a regional system in Central Florida with "complete reciprocity between Tampa and Orlando."
Rzepecki says there are still some details that operators will have to work out, like whether to provide helmets. "As much as we love the idea of a shared bike, the idea of a shared helmet is just kind of gross," he says. Other bike programs offer incentives like discounts at local bike shops for helmet purchases. 
Orlando aims to put out a request for proposals to operate a bike share system in the city in the next few months.