For Some New Yorkers, News of Immigration Reform is New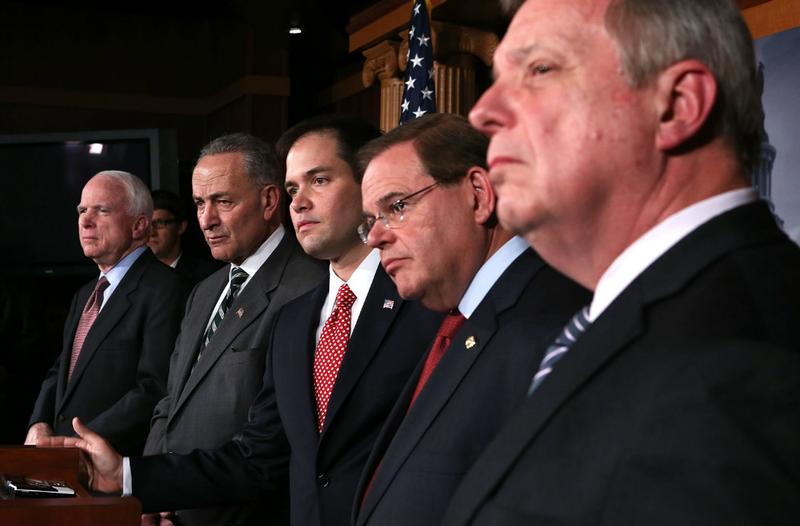 Jodi Ziesemer, an accredited representative at Catholic Charities, a non-profit which provides legal services, was calling clients for whom she usually doesn't have good news on Wednesday.
It's a group of over a hundred people who are not eligible for any relief and have been waiting for immigration reform. They include Hendra Budiharto, 47.

Budiharto came to the U.S. in 1999 from Indonesia and overstayed his visa. He has a deportation order. On the phone, Ziesemer tells him he would be eligible for temporary legal status if this law is passed. Ten years later he could qualify a green card.

"All right!" he exclaimed. "I'm so happy!"

It was the first time he heard of the immigration bill that was introduced in the Senate on Wednesday. The Gang of Eight, four Republican and four Democratic Senators, worked on it for months. Under the bill, 11 million immigrants in the country illegally could qualify for citizenship.
By the time Ziesemer finished talking to Budiharto, he was ecstatic.

About an hour later another client, Jean Francois, strolled into her office. Francois also said he hasn't heard anything about the proposed immigration bill.

"I wasn't concentrated on it, you know?" he explained.

Francois, 55, is from Haiti. He's been granted temporary protected status in 2010 after the earthquake, which means he can work in the U.S. legally. Francois said he's been looking for work and that it kept him away from following news.

For him, a change in immigration laws would mean he gets a chance to stay permanently in the United States. Ziesemer told him to prepare now so he's ready if reform happens.

"Save your money, save evidence that you are living in the United States," she said. "And file your taxes."

Those applying for temporary legal status and residency under the Gang of Eight's proposal will have to pay back taxes, application fees and a $2000 penalty fee over a 10-year period. Francois missed the opportunity to apply for amnesty under President Ronald Reagan by arriving two weeks after the cut-off date. He shrugged his shoulders, describing the situation as "unlucky."

"That's why you have to pay attention to this new reform now," Ziesemer told him. "You've probably been waiting for longer than almost anyone else in the United States."
To hear this story, click the audio link above.