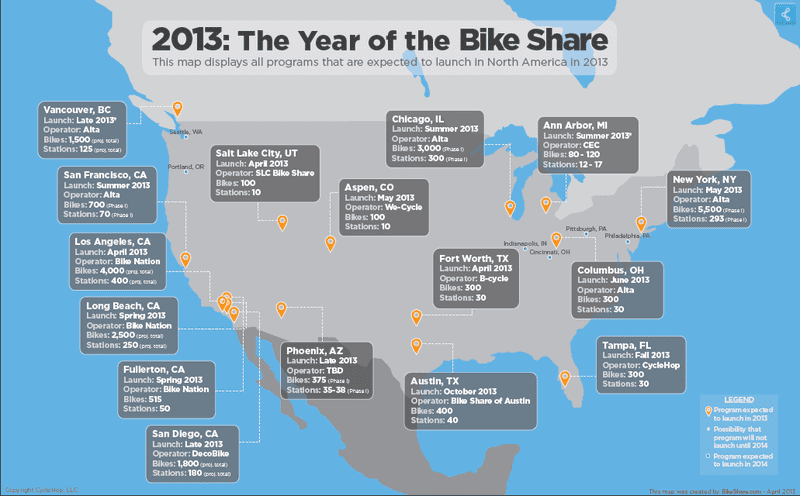 North America is seeing a boom in bike sharing program launches. The number of cities planning to add bicycles as public transportation on the continent is expected to jump by 50 percent this year, bringing the total number to 53.
Existing bike share programs in America are also hitting milestone after milestone this season. Washington, D.C.'s Capital Bikeshare broke ridership records last weekend with more than 11,000 trips in one day for the first time. And, as we reported, New York City's Citibike opened registration, signing up more than 5,000 "founding members" in just over a day. When that program launches next month it will be the nation's largest with 330 docking stations and 6,000 bikes, expected to grow to 10,000. (Note this is a different, updated figure than the map cites above.)
NYC will be the main event in the theater of bike share this season, but it's just one city joining in on a nationwide trend. To chart that growth, the folks at bike sharing consultancy BikeShare.com put together an infographic of where new programs will launch.
Eighteen cities in all are scheduled to launch bike sharing in 2013, with six more already set to begin in 2014. 
As we've seen with the New York program, delays can be long. But the map above is a solid indicator that more and more cities are behind the idea that membership-based bike rental can be a part of a public transit system. 
Some of the programs are massive like those in New York, Los Angeles, and Chicago, but smaller cities with more targeted goals are also taking to the idea. Aspen Colorado and Salt Lake City are each launching with just 100 bikes and ten stations. 
As BikeShare.com research notes, many of the new programs will be managed by the same few companies. Alta Bicycle Share will run five (including New York and San Francisco), Bike Nation is expanding into the regional provider of Southern California managing four programs around LA. 
If you know of any other cities launching programs soon, let us know.