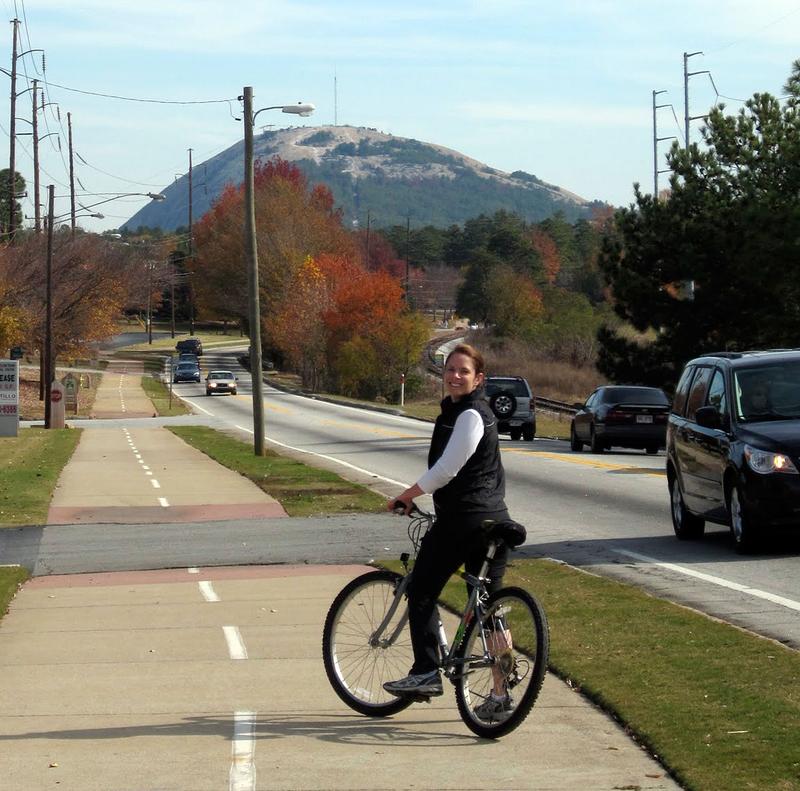 (Kate Sweeney, WABE -- Atlanta) Last year, Bicycling Magazine rated Minneapolis the number one city in America for bike-friendliness. Atlanta did not enter the top ten, nor has it ever.
What's changed is that now, it wants to. Mayor Kasim Reed's administration has announced this year a goal of being a top-ten cycling city by 2016. WABE's Kate Sweeney looked into just what that means.
Listen to the full radio story at WABE.
Does Atlanta really have a future as a bike-friendly city? Gauging from the gridlocked sight of any of its major surface thoroughfares at rush hour, you might not think so. But Kari Watkins, a professor of civil and environmental engineering at Georgia Tech, says that, believe it or not, Atlanta's getting better.
"I think when we say 'getting better,' it's because we know about what is about to happen," says Watkins. "We sort of see this momentum coming and we know that, you know, two years from now it's going be a crazy different picture."
As one of the developers behind a new smart phone app that allows bike riders to record troubling and helpful spots along their routes, Watkins is part of a team that's working on engineering that picture.
But the app's just one part of a larger plan.
Earlier this year, Mayor Kasim Reed's office promised cycling improvements on a scale Atlanta's never seen, investing more than $2 million in biking infrastructure. By 2016, Atlanta pledges to double its miles of bike lanes. This includes adding lanes that will connect the Atlanta University Center to downtown and connect the Beltline with Centennial Olympic Park, among other plans. The plan even includes a separated bike lane on busy Ponce de Leon Avenue.
Then there's Cycle Atlanta, that Georgia Tech smart phone app the city's invested in. Tech's Kari Watkins recently joined me on my commute to WABE to try it out.
The app tracks where a cyclist travels. This way, it keeps a log of the commutes, weekend rides, and errands of all its users--to give the city an idea of where people are biking, when and how. It also allows the user to log spots that cause trouble, like a row of cars parked in a bike lane; and helpful spots, such as coffeeshops with bathrooms.
On our ride to WABE, we noted some rough road along North Highland Avenue, and also let the app know that I never, ever bike on Cheshire Bridge Road, opting instead for the sidewalk.
Back at the station, I called up Joshua Mello with the City, to find out what actually happens with all the data users input into the app. As the assistant director of the city's Transportation Planning Department, Mello is the man who stands between riders' complaints and the city crews who might address them.
On the phone, he said, "I would probably cull the data from the app and look for issues like that that could be dealt with through the maintenance crews…Then I would go through, and I would create work orders…and get it in the queue for repairs."
Excellent for riders, if something actually gets done.
Regardless of the outcome, these efforts mark the first time the city has asked cyclists how it could make their rides better and invested so much effort to do so.
Rebecca Serna, of the Atlanta Bicycle Coalition, says that's worth a lot. "It shows a shift in priorities. I think what we're seeing from the mayor's office is really a re-dedication to the surface streets of Atlanta, where people are. You know, we're not all on the highways all the time as we're moving back into the city."
It's those people who are moving back, she says, who've motivated the city to start making changes. "Over the past decade, cycling in Atlanta really took off, and it was really despite the lack of infrastructure. So, it was because people just found it convenient."
According to an American Communities survey, between 2000 and 2009, the rate of bike commuting in Atlanta rose almost 400%. That's the fastest rate of growth in the country. 
All these changes, says Serna, come down to simple demand. "You know, you can only fit so many cars into a city where people want to be."
Really, the move for more bike lanes, trails, and the city's next highlighted project—a bike-share program—isn't coming mainly from the city at all. It's coming from the cyclists who want it. And if it's to continue, it's up to the folks on two wheels to continue to push. 
Head over to WABE to Listen to a radio version of this story, complete with the sounds of a ride. Check out the comments there for some additional thoughts from local cyclists.