Soundcheck
Jamie Lidell: Soulful Electronics, In The Studio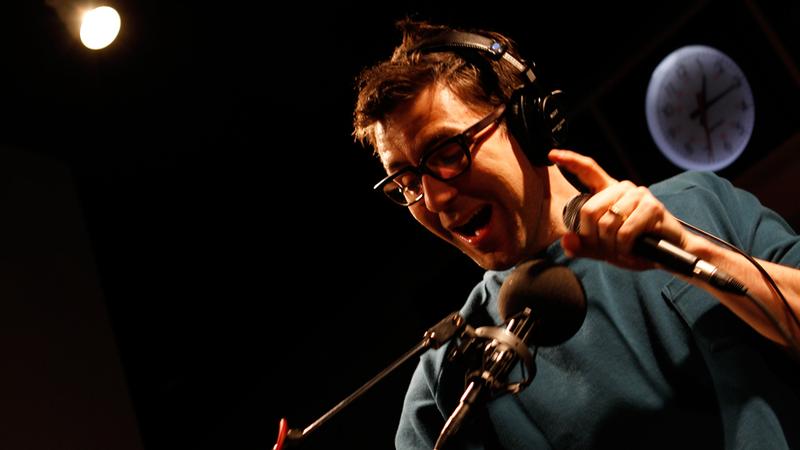 English electro-pop musician Jamie Lidell has a new home in Nashville, and he's already used it to his full advantage; it's where he recorded his latest, self-titled record. Lidell claims that every room in the house served as a studio at one point. Yet the atmosphere in his songs is far from homespun: They're full of funky synths, pounding basslines, and soulful vocals that draw heavily Prince, who Lidell tells Soundcheck is "my first love, musically."
Lidell and his band come to the Soundcheck studio for a live performance and interview.
Set List:
"Don't You Love Me"
"A Little Bit More"
"When I Come Back Around"
Lidell, on how his Nashville home played a part in shaping the songs on his latest album:
My wife and I have this amazing house, and it was a real fortuitous find. The then-library of a couple of Vanderbilt professors has now become my studio room. And I had a huge mixing desk in there. I had all my toys set up for the first time to use, having lived in New York and [having watched] them gathering dust, living in this disciplined, almost Tokyo existence, where everything had its home. Now I can sprawl at last. And the result of that sprawl was kind of this album.
On his meeting his childhood idol, Prince:
I was making my way to stage. I knew Prince was there, but I was desperately trying to avoid him, just thinking this is definitely not going to go well. As I came over, Janelle [Monae] insisted that I come by. Prince insisted not to acknowledge me. It was miserable. The whole experience was really weird. But then looking back at it, it was perfect: Prince was just himself. He was a good eccentric, and it kind of makes me happy now that the experience went down like that.
On touring as a solo act:
I think a lot of electronic musicians in general are faced with this sort of quandary, how to actually play [live]. So I've been messing with loops and with my voice, synths, and drum machines for a while, and I've brought it back for this [tour].