Boston Bombings: WNYC's Full Coverage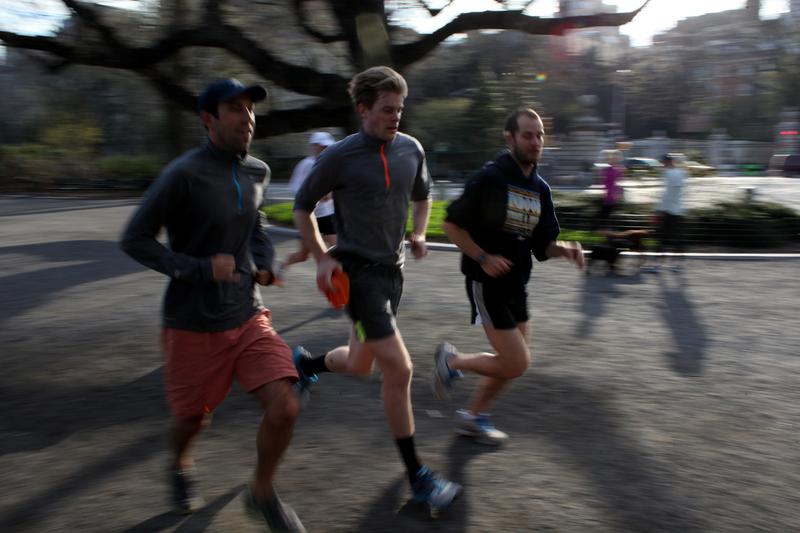 Residents of Newtown, Connecticut were running in Monday's Boston Marathon, in honor of the victims of the Sandy Hook Elementary School shooting.
Thomas Abrams was among them. He was running the marathon with a group called NewtownSTRONGfund. The pair of bombs exploded before he finished the race, so he never crossed the finish line. Authorities escorted Abrams and some other runners to local church, where food, drink, and blankets were provided.

He believes all the members of his group are safe.

"It's very emotional. The Newtown incident speaks for itself. It's an unspeakable tragedy," he  Abrams said. "[To] have this happen there [in Boston] just compounded, for me, personally, the tragedy of it all, and the irony of it all."
To hear Host Amy Eddings' full conversation with Thomas Abrams, click on the audio above.
----------------------------------------------
NYC on "High Alert"
New York City is on "high alert" following the bombings in Boston. That phrase, has been in heavy use since the September 11th, 2001 terrorist attacks. 

The phrase has been used so much since the attacks, that it has begun to lose all meaning, said Todd Gitlin, Professor of Journalism and Sociology and chair of the Ph.D. program in Communications at Columbia University.

"The bureaucratic response to a calamity is to say something and saying, 'high alert' is a way of saying something. But I don't know what it means now anymore than I did 10 years ago," Gitlin said.

Gitlin spoke Tuesday with WNYC's Amy Eddings:
----------------------------------------------
Muslims Brace for Backlash
Muslim Americans are bracing for a possible blacklash. WNYC's Arun Venugopal talked to some leaders in the Muslim community who said there was fear that the perpetrator of Monday's attack in Boston would be someone with a Muslim or Arab background.

Some Muslim activists told Venugopal that while they condemn the attacks, they're worried that the media and law enforcement will push for increased surveillance of their community.

The Council on American Islamic Relations is also calling for blood donations. And one imam, Suhaib Webb, vowed to run in the marathon next year to show resilience in the face of evil.
----------------------------------------
NYC Re-evaluates Security
Police Commissioner Ray Kelly said the city will re-evaluate its security for the New York City marathon in the fall — and that although there are no specific threats against the city, officials are treating the bombings in Boston as a possible prelude to another attack
"I think we take a clean-sheet-of-paper look at what we're doing," Kelly said. "We don't necessarily want to fight yesterday's war."
Mayor Michael Bloomberg called the events in Boston "a terrible reminder" of the need for cities like New York to continue with tough counter-terrorism initiatives.
"No system is perfect and no system can eliminate the threat of an attack," the mayor said.
- Colby Hamilton
(Photo: City Hall is flying the city flag (left) and the Boston flag to show solidarity following the twin bombings in the city. Colby Hamilton/WNYC)
-------------------------------------------------------
Mayor Gives Update in Wake of Boston Bombings

Mayor Michael Bloomberg updates New Yorkers on safety measures the city is taking in the wake of the Boston marathon bombings.
-------------------------------------------------------
Still in Shock, Runners Take to Central Park

A day after twin bombs erupted at the finish line of the Boston Marathon, runners pattered along the dirt trail of the reservoir as the sun rose in Central Park.
Michael Yaker, 46, a 20-time marathoner wore his blue Boston 2010 marathon shirt Tuesday morning during his run through Central Park. He's run the venerated marathon twice.
"I think everyone was pretty devastated yesterday," he said. "Is it going to have an effect on us running marathons? We're all going to be out there. The running community is very strong, and we do what we do. We'll be out there."
Stretching before his morning run, Tony Lam, 51, said he was chilled when he saw what time the bombs went off. He runs about a four-hour marathon.
"It's sort of a shock to have current events intrude on the seemingly harmless world of running," Lam said. "I think that's my big surprise."
Joy Dushey, 40, is training for the New York City marathon. Peering out from behind black wraparound sunglasses, she said the events in Boston only strengthened her resolve.
"Marathoning entails a lot of resilience, and, no, I wouldn't think twice about holding back from running a marathon," she said.
- Stephen Nessen
-------------------------------------------------------
Doctor Details ER Scene; NY Security Expert Talks Safeguards
A Boston surgeon told WNYC he saw a lot of limb injuries after two bombs exploded near the finish line of the marathon on Monday – saying there was evidence of everything from "shrapnel from pieces of metal to different objects."
Tufts Medical Center assistant chief of emergency medicine Dr. Matt Mostofi said the hospital treated 15 victims from the bomb blast. He spoke with WNYC from Boston.
Meanwhile, FBI investigators are continuing to sift through evidence for clues of who could have been behind the bombing. 
New York counter-terrorism officials are tightening security and subway stations and other strategic locations -- but how do you safeguard large events like marathons? WNYC spoke to
Anthony Roman, CEO of a New York firm that specializes in security consultation. He says multiple layers of security are required, but marathons and parades are particularly difficult to protect since they take a long, linear route along busy streets."
- Joe Hernandez, Javier Guzman
-------------------------------------------------------
Anxious Travelers Pass Through City Transit Hubs
(Photo: Officials ramp up security at Penn Station a day after a pair of bombs exploded at the Boston marathon finish line. Colby Hamilton/WNYC)
Police dogs and assault rifles: New York's Penn Station was on heightened security alert after the attacks in Boston on Monday. Travelers to and from Boston expressed a mixture of anxiety and determination to get back to normal.
Michelle Rizzo was returning to Boston with colleagues from a trade show in the city. She said her safety concerns had been put to rest by the increased police presence at Penn Station.
"It was a little bit emotional for the group last night but today I think we're feeling a little bit better--looking forward to getting home to seeing the family and the friends," Rizzo said.
- Colby Hamilton