(New York, NY - WNYC) Cab drivers from throughout the city came out in force on Monday to push the New York City Taxi and Limousine Commission to approve the proposed 17 percent fare hike.
The increase, if approved later this week, would increase charge per mile but the $2.50 base rate would stay the same. The flat fare to and from JFK Airport would also jump from $45 to $52.
Speaking to a room mostly of fare-hike backers during a hearing Monday, TLC Commissioner David Yassky said he supports the measure, which would be the first time in six years that fares have increased.
"The price of a loaf of bread has gone up. A gallon of milk has gone up. Certainly, the price of a gallon of gasoline has gone way up, and I think that taxi passengers understand they have to pay for some of that," Yassky said.
But approval of the plan isn't a done deal. Just two of the commission's nine TLC commissioners appeared at the hearing, and medallion owners have been angling behind the scenes.
At least one borough Commissioner, Frank Carone of Brooklyn, has said he'd vote against the proposal as it stands now because the increase doesn't meet the guidelines for rules that govern fare increases.
But the head of the Taxi Worker Alliance, Bhairavi Desai, said the wait has been too long.
"The idea that hard-working people are earning 25 percent less today than what they earned in 2006 is absolutely unacceptable," Desai said. "After 12 long hours behind a wheel, collectively serving over a half a million people, there's no question taxi drivers deserve to make a livable income."
Fleet owners complained the fare proposal leaves them out. The TLC isn't considering increasing the amount garages can charge drivers for renting the taxi and medallion—otherwise known as lease caps.
Michael Woloz, spokesman for the fleet group the Metropolitan Taxicab Board of Trade, urged the commission to consider their rising costs too. He said the price of maintaining a garage is expensive.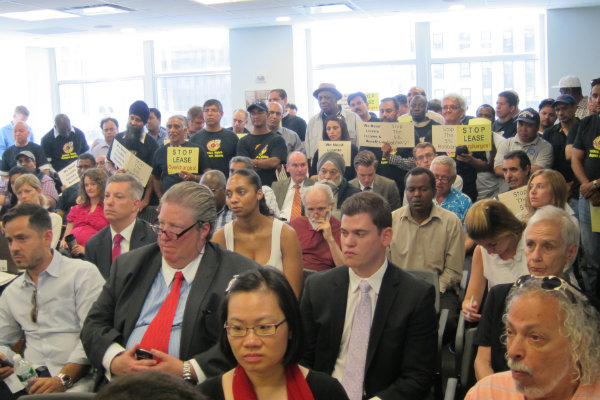 "(To) have tow truck operators, gas stations  and mechanics that work 24 hours a day to make sure New Yorkers' taxi service is that best in the world—that costs money" Woloz said.
He said a 19 percent increase to both fares and lease caps would be more equitable.
But, according to TLC figures, fleets can make about $48,650 per medallion, meaning a 200-cab fleet could make more than $9 million a year, which the TLC doesn't consider a hardship.
The TLC is scheduled to vote on the plan this Thursday.