(Guia Marie Del Prado -- New York, NY, WNYC) In case you missed the news earlier this week, New York City's fifth annual Summer Streets will have something new this year: a 30-foot zip line, which will give locals a new way to appreciate car-free streets.
During Summer Streets, a seven mile stretch of Manhattan roads — from the Brooklyn Bridge to Central Park — are closed to cars on three Saturdays in August. It allows New Yorkers to walk, bike and play in public spaces they usually don't have sole access to.
The New York City Department of Transportation (DOT) unveiled the free zip line at Union Square Park on Tuesday.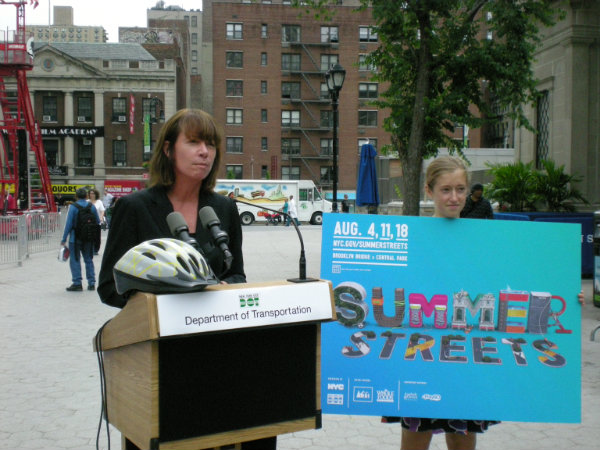 DOT Commissioner Janette Sadik-Khan said she rode the zip line, twice. "I highly recommend it," she said; "you don't need a cup of coffee, just start the day with a zip line."
Fahim Saleh took a break from work as an app developer to test out the zip line with his co-workers.
"We thought we'd just take a break from work and why not?" he said. "Just zip line in the middle of work. Sounds like a good idea to me."
Sophia Taylor, 47, waited in line to face her fears with her 6-year-old daughter Neveah.
"I want to try it because I'm afraid of heights," Taylor said. "So I'm going to test my fears today and I'm going to get on there."
Aside from the zip line, Summer Streets will also host a 25-foot climbing wall, yoga and other activities at different locations along the road on August 4, 11, and 18 from 7:00 a.m. to 1:00 p.m.
According to Sadik-Khan, as many as 60,000 New Yorkers make use of Summer Streets every year.