Not Taking it Anymore: One Woman Talks Back to Street Harassers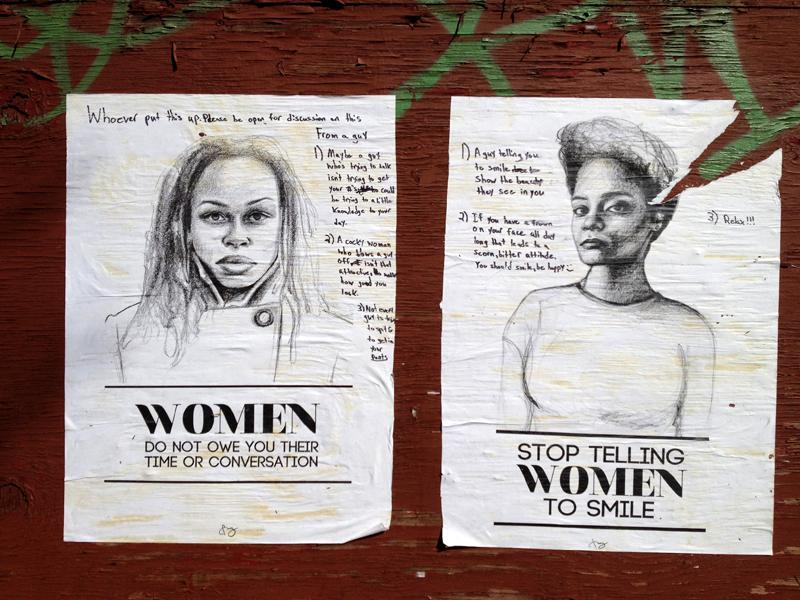 As spring sets in, New Yorkers are gladly shedding those layers of winter clothes and women are often finding themselves the object of more cat calls, whistles and roving eyes than they'd like. One artist isn't going to take it anymore.
Tatyana Fazlalizadeh says she can't walk down her street in Bedford-Stuyvesant, Brooklyn without getting cat called or harassed.
"It happens almost daily to me where I get frustrated or annoyed or upset by something that someone has said to me or done to me outside on the street," she said, speaking from her apartment in Brooklyn.
The artist recently moved to New York where she'd been painting murals in Philadelphia and she wanted to find a way to respond through her art to the men who disrupted her daily life.
Phrases popped into her head, the kind of things she wants to shout back, but doesn't.
Things like: "Stop telling woman to smile. My name is not baby. Women are not seeking your validation. Women do not owe you their time or conversation. You're not entitled to my body."
"A lot of the times you don't say it. At least I don't. You keep walking. You keep moving because you don't have time. You don't have the energy, or you don't want it to escalate. You never really know what will happen. It could easily get dangerous," she said.
Artist Tatyana Fazlalizadeh on her block in Bedford-Stuyvesant, Brooklyn. (Stephen Nessen/WNYC)
In her cramped bedroom she began creating stark pencil drawings of women with those phrases written in bold below. Under the cover of darkness she plastered copies of her posters across Brooklyn.
"I thought this was the perfect opportunity to actually express myself where street harassment happens."
On Tompkins Avenue, where she hung her first two posters, 22-year old Bed-Stuy native Sapphire Monet walks past the posters and agrees, they send a much needed message. "It can be disrespectful at times," she said.
"Everyday, a 'psst,' or a 'yo' or a 'hey,' or 'excuse me what's your name,' and they might get disrespectful and call you by a body part," she said.
Not everyone agrees. In this cultural melting pot, some men, like Anthony Williams, 30, who runs a clothing shop on Fulton Street, says it's part of his DNA. "I'm a man. I'm supposed to. I think every man, if they see a woman they feel is attractive, should try to do what they can to acquire this woman," he said.
Other female veterans of the neighborhood say they're used to the harassment and have learned to cope.
"Nothing beats a try but a failure," Michelle Brown, 32, said as she gets her nails done at a salon on Fulton Street. "I don't pay it no mind. I hold my head high, smile and keep walking. It doesn't bother me. They just looking for attention, and I don't give it to them," she said.
Since the posters on Tompkins Avenue went up a month ago, they've sparked a spoken and written dialogue on the street. Scrawled in the white spaces are messages. A real-world Facebook wall.
Poster on Tompkins Ave. (Stephen Nessen/WNYC)
Fazlalizadeh let the dialogue unfold over the weeks, but took her posters down last week when someone scrawled a male body part in the center of one poster.
That poster will be on display, along with her other posters and paintings at the art space Fresthetic in Williamsburg for the next few weeks.
But she's not abandoning her street art either. Her first foray has attracted more attention than she expected, and she considers it a success.
"A lot of the times women feel that they don't have space like they don't have a right to the space outside. It put us out there in that environment and claim that space for ourselves," she said.
Poster on Tompkins Ave. (Stephen Nessen/WNYC)