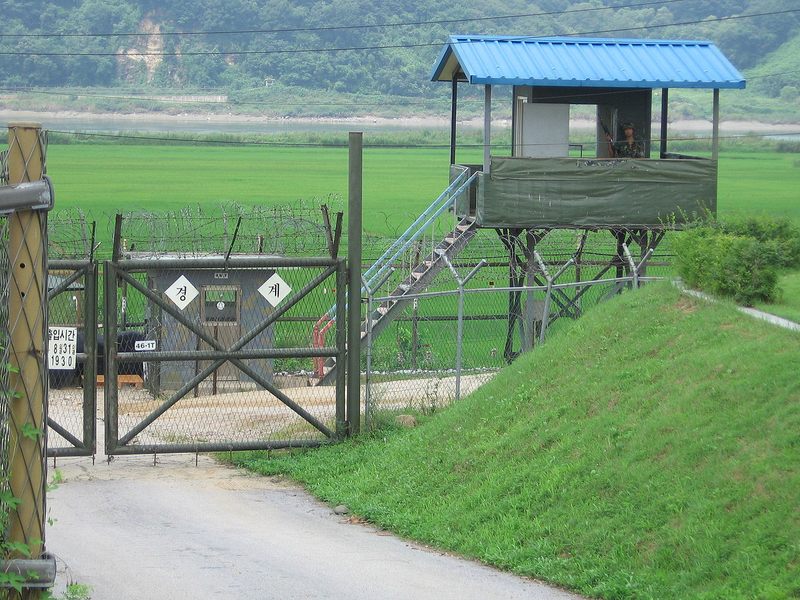 After a week of aggressive threats from North Korea, Pyongyang continues to warn of an imminent missile test, possibly on Monday, the birthday of Kim Il-sung, the late founder of North Korea. Today, Secretary of State John Kerry flew to Seoul, in an effort to defuse international tension. 
This week, the BBC's Dan Damon has been hosting his program "World Update" from South Korea. Dan traveled to the banks of the Imjin River, at the border between North and South where he found a range of perspectives on Peninsula's conflict.
Some still hope for reunification. While collecting signatures for an international petition, one 81-year-old woman told Damon, "It's been 64 years since reunification did not happen on the Korean Peninsula. This petition is for making it on the international agenda in order to approach this problem more internationally."
Close by, a 27-year-old who just finished his military service in South Korea explained why he hoped the countries would remain separate. "South Korea has a democratic voting system, but the leader in the North is the successor of their fathers," he said. "Because of that, we have a different life condition, culture. Although we are the same Korean people and use the same language, if reunification happens, it would confuse me."
Many South Koreans simply hope for peace. As one demonstrator told Damon, "We're demonstrating, calling to live in harmony, not destroying each other. We're here because we want Kim Jung-Un to reopen the Kaesong Industrial Complex. Let the North Koreans have more abundant food. Reunite with the South in order to achieve peace on the Korean Peninsula. That's why we're releasing doves as well."