For One Beach Block, Rebuild on Hold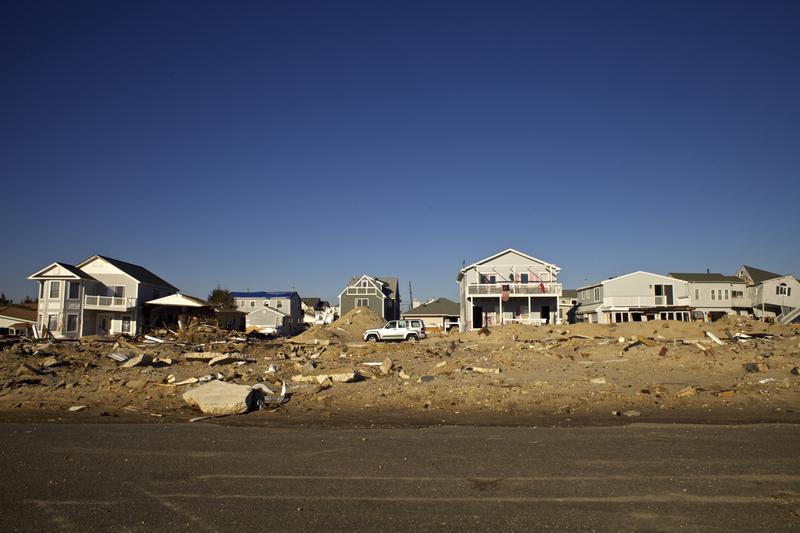 Fielder Avenue in Ortley Beach was one of the worst hit blocks at the shore. Sandy destroyed 10 homes, and badly damaged most others. WNYC has been visiting the block and collecting the stories of residents and their struggles to rebuild.
While many beach towns in New Jersey march toward recovery from Sandy by Memorial Day, parts of Ortley Beach, in Toms River Township, still lack basic utilities.
In fact, destruction from the storm on the barrier island was so intense that residents were initially barred from returning home for nearly two months.
"This used to be my house," said Dale Belli of 18 Fielder Avenue, while standing on her property, looking at the vacant land pocked with debris.
Roads were impassable.  Snapped utility poles and cut gas lines made walking in the area dangerous.  And 15,000 homes were flooded. When residents did get access to their property, it was limited to designated days for about two months.  That exacerbated the mold and water damage inside the homes.
"It took 3 weeks to get in the first time, and that was for only 4 hours," said Judee Szaro-Treanor, who lives at 48 Fielder Avenue.
By late January residents had begun to clear waterlogged contents onto sidewalks and assess the damage.  But progress for many residents has ground to a halt.
"I still don't have electric," said resident Barry Ingram. 
Yet,  when electricity and other utilities are restored, many residents will still be at a standstill.  FEMA's new flood elevation maps determine flood insurance premiums.  If residents are in a flood zone, they may have to raise up their foundations or face steep flood insurance premiums that could top $30-thousand dollars a year.
An estimated 10,000 homes in Toms River Township will have to be raised up, or their owners will face flood insurance costs that would far exceed property taxes in some case.
"How am I going to raise the house up off its foundation, it's got a concrete floor, and we'll have to put pilings in," said Ingram.
Governor Chris Christie approved the federal maps, but at the same time he also encouraged residents to build higher if they could.  There's disagreement among some local and state officials as to what residents should do at this point.
"We're telling people if you can wait, wait [to build] and let's set what happens," said Thomas Kelaher, Mayor of Toms River Township, which includes Ortley Beach.
A grass roots group has formed in Toms River to fight the federal flood maps. 
"We want answers as to what is going on with these maps," said George Kasimos, the found of Stop FEMA Now. 
Meanwhile, many homes on Fielder Avenue and the rest of New Jersey sit in limbo, their hopes of rebuilding by Memorial Day, dashed. Barry and Ileana Ingram had hoped to be in their full-time home by now, yet the best they can hope for is a memorial day party held in their driveway while they camp-out in the house.
 "It looks exactly the same on this block as it did in January," said Ileana Ingram.