Show Goes on at Theatre Program in Rockaways After Sandy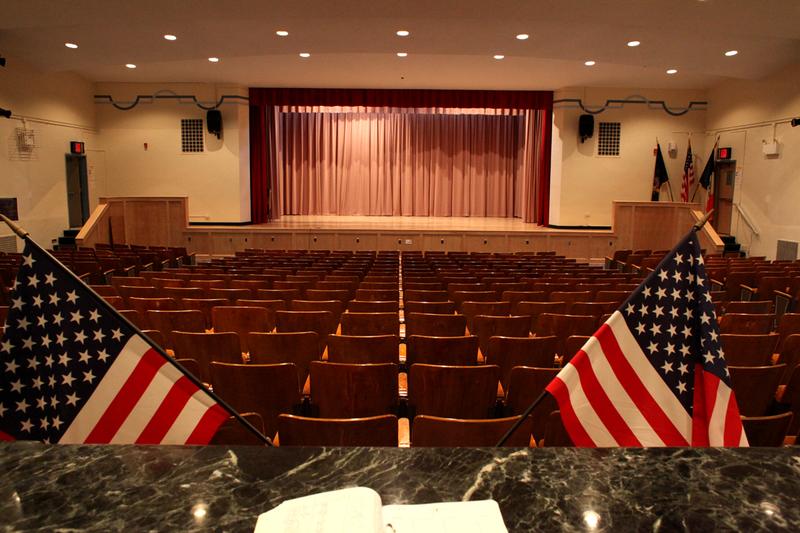 One of the casualties from Sandy was a wardrobe of costumes and props from the drama program at the Scholars' Academy in Rockaway Beach, Queens collected over the past seven years. The combined middle school and high school was one of the last in the city to re-open after Sandy. And now the drama department is rushing to prepare for a performance of Stephen Sondheim's "Into the Woods" before the school year ends. 
Taylor Lombardino, 13, is modest when it comes to her role in the musical.
"I play Cinderella, so, it's kind of a good part, I guess," she said during a recent rehearsal. "It's just really good to see everybody working together and get this play back when we started it."
The school sits on the bayside of the peninsula. The theatre took on nearly five feet of water, destroying expensive audio equipment and turning the stage into a warped muddy mess, according to Leslie Kohn, the theatre and arts director at Scholars' Academy.
"Basically we lost our costumes our props which were housed backstage right," she said. "The water damage was so bad we didn't even want to clean the costumes, we didn't want to possibly endanger our students so we just threw them out, they were pretty damaged."
Since Sandy, the stage has been replaced. The Roundabout Theatre Company has donated some costumes for "Into the Woods," and donated other costumes as well. But the drama program still needs microphones, movable set pieces and a fully stocked wardrobe.
The theater at the Scholars' Academy after Sandy (Courtesy of Scholars' Academy)
But the kids are making do with what they've got for now. A performance of 12 Angry Jurors was delayed by Sandy, but recently went ahead on a bare bone stage with a few wireless microphones, folding tables and a painted wood panel for a city skyline.
And everyone is buzzing about an online contest to win a $3,000 dollar gift card to Lowes hardware store that will be given away by the show Smash to five needy theater programs across the country.
Most of the schools in the online contest posted photos of colorful theater productions, or smiling students with text asking for much needed upgrades. The Scholars' Academy has a blurry photo of their post-Sandy stage with a simple plea: "We lost our theatre, gym and were displaced for over two months. We need your help!"
No surprise, they're front runners with thousands of clicks of support.
Tamia Laptiste, 12, is playing a witch in "Into the Woods," and is also playing her role in the contest.
"Everyday when I go home I make sure I vote and I make sure I get all my parent's friends to vote for me," she said.
Laptiste said her basement took on seven feet of water during Sandy and stayed with relatives for two months.
She and her classmates say theatre is where they go to escape after a grueling math class, and where they've been releasing some post-Sandy stress. The school even came up with a slogan to help rally the students: "We're not down, we're going to come back. We're Rockaway resilient and Scholars' strong," Lapiste recites.
On a recent afternoon, one group of seventh and eighth graders practice the closing song from "Into the Woods." Behind them is a freshly cleaned curtain, which had been salvaged from the storm.
This area of the Rockaways is still struggling to figure out how to protect the area from future floods. And the closing song has a message that should resonate with parents and city planners: actions have consequences, especially for future generations.
The Sondheim song goes, "Children will look to you for which way to turn, to learn what to be, careful before you say listen to me, children will listen."
Into the Woods is scheduled to open June 7.