Castro's Role in Scandal Angers Constituents, Colleagues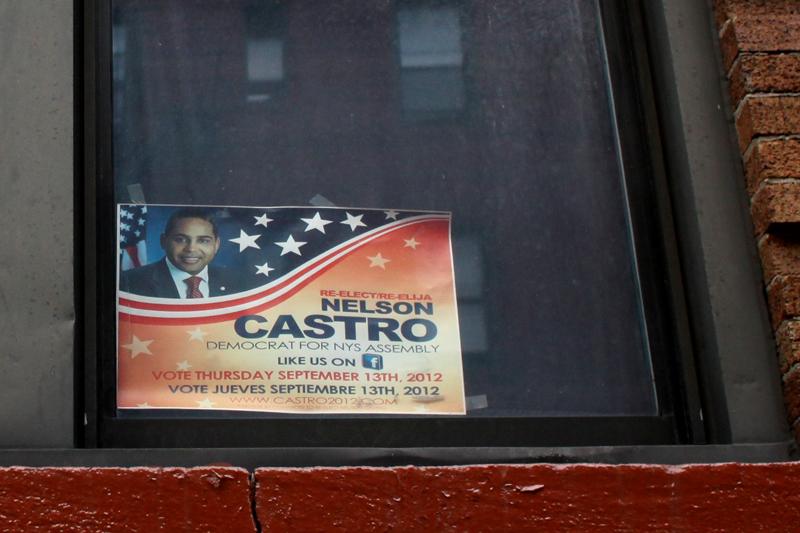 When Assemblyman Nelson Castro was first elected in 2008, he was hailed as the Bronx's first Dominican American elected legislator. On Thursday, Castro was named as Assemblyman-1 in the bribery indictment of fellow Assemblyman Eric Stevenson. But Castro spent almost his entire tenure in office as a convicted criminal who had been cooperating with law enforcement authorities for years.
On paper, Castro had a promising start. He worked for up-and-coming State Senator Adriano Espaillat. In 2008, he ran for Assembly with the backing of the Bronx organization -- and won handily.
In a YouTube video from his 2010 re-election campaign, Castro trumpets his leadership and reaffirms his commitment to his constituents.
"I don't do this because of the pay. I do this because every morning, I believe that this is my job," declares Castro through a mechanical bullhorn.
But by that time, Castro's other job -- hidden from voters -- was to cooperate with law enforcement officials.
Castro was arrested for grand larceny in the summer of 2004 for collecting unemployment benefits while being employed.  He pled guilty to a reduced count and was sentenced to three years probation.
But in 2008, while running for office for the first time, Castro was again on the wrong side of the law. He committed perjury. Officials caught him. So instead of facing additional prosecution, he became an informant.
While Castro served on several Assembly committees, he was in no way part of the body's leadership or even seen as anything more than a backbench player, according to several other lawmakers.
But he was elected the board of the New York State Association of Black and Puerto Rican Legislators. Assemblyman N. Nick Perry of Brooklyn serves as the head of the Board. He said, as a young man, Castro seemed to hold real promise. But looking back, he's not so sure about Castro's career as an elected official.
"It probably should not have been allowed to begin based on the information we have now," Perry said by phone, while also questioning the decision by law enforcement officials to allow Castro to run for re-election while working as an informant.
Perry is not alone. Bronx Assemblyman Michael Benedetto said the voters were unwittingly voting for a "lame duck" when they sent Castro to Albany.
"I do feel a little bit uneasy about the practice--that they have somebody up there, wired, spying on the members of the Assembly," Benedetto said by phone.
While Castro was not known for his legislative record, he did hold frequent events in his district, so the news of his arrest and history wearing a wire hit the community hard.
On Jerome Avenue there's a freshly painted mural outside the New Age Adult Day Care Center, recently opened in Castro's district, and one of the centers at the heart of the corruption scandal. Inside it's a bright big space with several tables. Elderly residents shuffle in early in the morning, hanging their coats, registering at front desk, chatting in Spanish.
Iris Torres, 70, lives nearby, volunteers at the center and is a fierce supporter of Castro.
"I can't say anything about Nelson Castro because he helped everybody in this neighborhood," Torres said.
She said Castro donated toys and goods for her Christmas party for the poor last year and was grateful when the Adult Day Care Center opened. "This is the only time my neighborhood had something for me, old people, and everybody is happy there because not everybody has food in the house," she said.
Veneliss Olmedia, 33, lives nearby and is less forgiving than her neighbor. She's disappointed and believes Castro betrayed his electorate and his people.
"You're not only backstabbing the people that got you there, you're betraying your family, your country, your people," she said.
With additional reporting from Colby Hamilton and Robert Hennelly