Soundcheck
Abigail Washburn Is A 'Post-American Girl'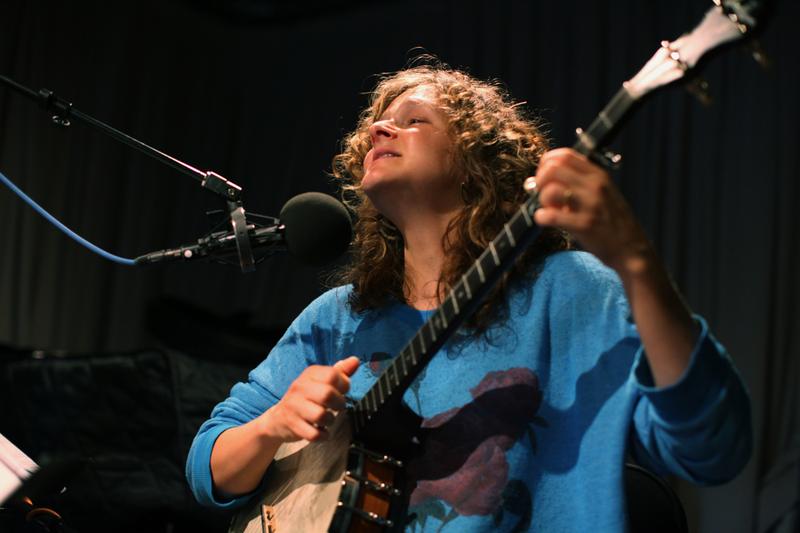 Since her 2005 debut in 2005, Abigail Washburn has paired the sounds of traditional American bluegrass with the folk music and arts of China. Nearly twenty years after her fascination with China began, the songwriter, and clawhammer banjo player is dramatizing her own story in a new staged piece, Post-American Girl. 
Set List:
"Taiyang Chulai"
"Banjo Pickin' Girl"
Listen to a special web extra - a new piece for Post-American Girl, called "Go Down."
On how Washburn's time in China led her to bluegrass:
"I loved being in choir, but I'd try out for solos and nobody would pick me. I wasn't told I was great at this. You know what I mean? So it didn't seem like a practical path for me at all to think about music as a possible career. But the banjo was a real surprise. It was really — and this a big part of the play — it's really a response to that really important time that I spent in China over those four years during college and feeling... the richness and the antiquity and the complexity and the fullness of Chinese culture over tens of thousands of years, literally. It just swept me up in this whirlwind of what became really an obsession with Chinese culture, and I started deriving a lot of how I was becoming an adult and how I was thinking about the world from those experiences in China."
On returning to America after spending six months in China learning from her mentor, Old Lady Wang:
"Because of that obsession that I gained out of my love for Old Lady Wang, my love for the culture and the intimacy I felt with it because of her, I came back to America and I was a bit jaded about America. And I was upset that Americans couldn't see how special it is in China, and everything seemed to be a superficial concern about national politics or economic issues. And I found that really frustrating."
On discovering the similarities between Chinese culture bluegrass:
"I was looking for something American that could in any way rival this amazing culture I had been immersed in China. The powerful thing that hit me was an LP of Doc Watson singing and playing "Shady Grove." And I heard the ancient and primal and eternal quality of that that I heard in China."
On the deep roots of American music:
You find the incredibly deep roots that have led to what I think is the most important and special and beautiful offering that America has in the world, which is our original American music that came from these ancient sounds of Africa and the British Isles, came together in Appalachia, and became what especially evolved into all the music people love today. It's incredible. I mean, it became blues, it became jazz, it became Dixieland, it became bluegrass, it became country music, it's become rock and roll.