Corruption Charges Mean Tough Questions for GOP Hopefuls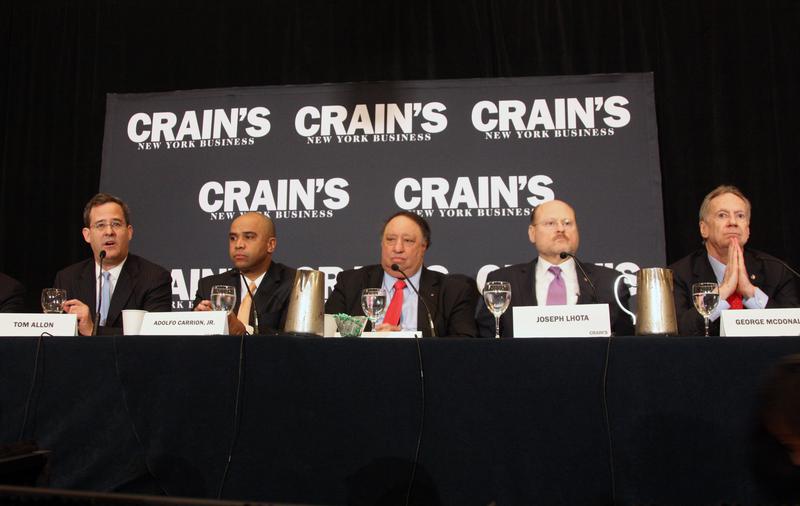 The arrest of State Senator Malcolm Smith, City Councilman Daniel Halloran and two Republican party leaders on corruption charges was the elephant in the room at a GOP mayoral candidate forum Tuesday night.
Before they could even get to the moderators' questions about subway fares, city schools and local crime, the candidates faced reporters' questions about the news of the day: a would-be candidate was arrested for allegedly trying to bribe his way on to the Republican party line along with other political operators who helped with the alleged scheme.
Candidates John Catsimatidis, George McDonald and Adolfo Carrion attended the forum hosted by the Asian American Federation. Joe Lhota canceled and did not attend. Lhota, who was recently endorsed by Halloran, has so far refused to comment on the case.
Catsimatidis faced questions about Vincent Tabone, vice chairman of the Queens Republican Party. Tabone was also a staff attorney at Catsimatidis' company.
Catsimatidis refuted the notion that his employment of Tabone showed bad judgment.
"I thought it showed good judgment," he said, adding that he has been cooperating with law enforcement.
He said he couldn't elaborate but added that he suspended Tabone without pay on Tuesday.
Carrion, like Smith, was not a Republican but wanted to run on that party line. Asked if anyone approached him about making contributions to Republican leaders in order to get on the ballot, he was unequivocal: "No one did. Ever," he said.
Meanwhile McDonald, took the opportunity during the forum to stress his outsider status, saying the political system seems at times "like a slow motion crime wave."
"I'm happy not to be involved," he said.