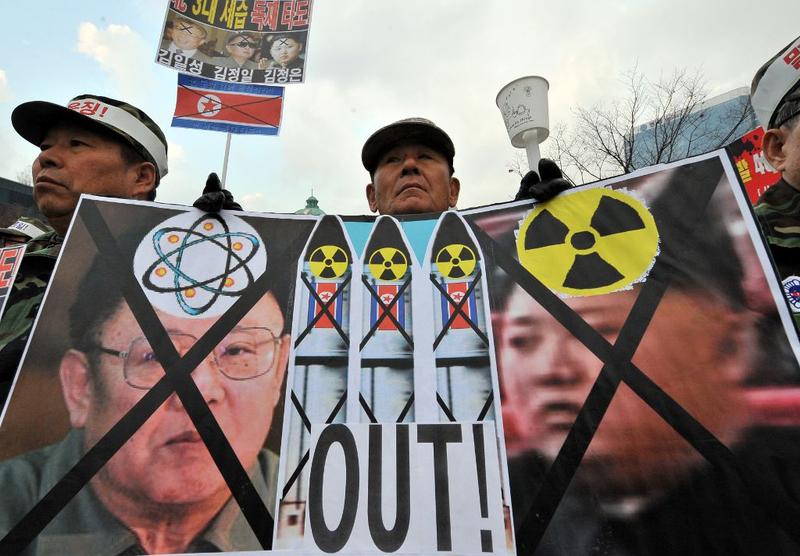 Mysterious and disturbing provocations from North Korea gained a possible new twist today. North Korea announced it would restart all of its nuclear facilities to expand the availability of plutonium and enriched uranium for what it says is a growing nuclear arsenal.
This announcement follows tough talk from South Korea warning of a quick and strong response to any military moves by the North. The White House says it is alarmed by this latest sustained North Korean episode of bellicose rhetoric but the Obama administration says it sees no North Korean troop movements that might indicate some mobilization is underway.
Sung-Yoon Lee is a professor in Korean studies and an assistant professor at Tufts University's Fletcher School. John Delury is an assistant professor at Yonsei University in Seoul, South Korea.
According to Delury, the last time someone other than a North Korean visited the nuclear site was when Stanford University physicist Siegfried Hecker examined the uranium facility in 2010. He described it as "ultra-modern" at the time. "Now what the North Koreans are saying is it's full steam ahead and they are restarting everything, including the plutonium program which we know has been stalled for a while. Plus whatever is going on with their uranium program."
"This is another step in North Korea's ladder of graduated escalation," says Sung-Yoon Lee. "The objective here is to put as much psychological pressure on Seoul and Washington to respond." In the past that has meant returning to negotiations with North Korea and making bigger concessions.
However, Lee believes that this time North Korea's threats may materialize. "I think there is a good chance that North Korea will follow through with some kind of deadly but nonetheless limited and controlled attack."