Deal on New Guest Worker Program Clears Path For Immigration Reform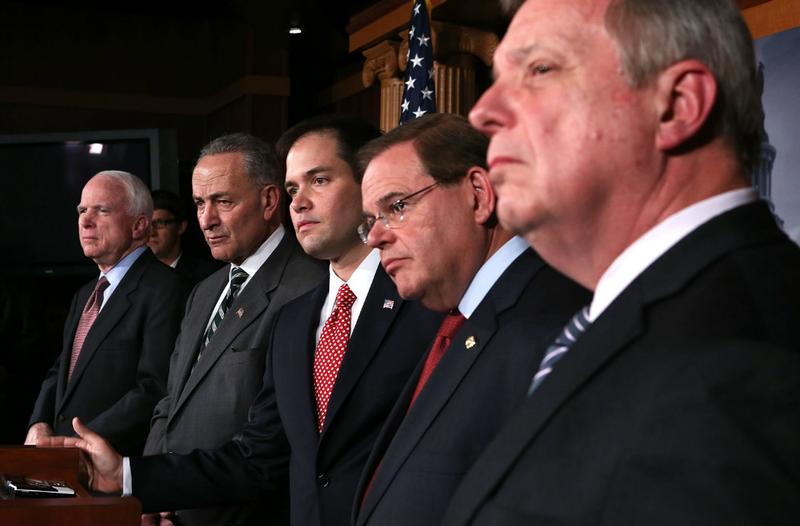 One issue at the center of the immigration debate is how to create a new visa program that will allow low skilled immigrants, who work in restaurants, hotels, construction, and other industries to come into the US legally.
Pitted against each other have been old rivals;businesses represented by the US Chamber of Commerce and the labor unions. They disagreed over how many immigrants should be allowed to enter the US annually and how much these workers should be paid.  After weeks of negotiations, an agreement was finally reached.  A new "W" visa for low-skilled immigrants will be introduced as a part of comprehensive immigration reform.
    
"This is bipartisan recognition that we need a program like this," said Tamar Jacoby, the president of ImmigrationWorks USA, an organization that advocates for immigration reform on behalf of businesses.

"Immigrant workers have been keeping afloat several vital industries in this country, from hospitality to construction to cleaning and maintenance to food processing to food service."

Under the agreement 20,000 immigrant workers will be allowed to enter the US in the first year. That number will grow to 75,000 in the fourth year, and will be capped at 200,000 annually. The new program allows employers to bring in workers for positions they say Americans don't want, but the deal also satisfies the labor unions.

Andrea Zuniga DiBitetto, a legislative representative for the AFL-CIO, says their goal was to make sure wages paid to immigrant workers didn't bring down wages for U.S. workers.

"If the average wage in this industry is like around for example, $27,000, we want the worker that's coming in to be paid around that so to make sure that wage level is protected for similarly employed workers," she said.

Immigrant workers who come on new visas will have to be paid the actual wage or the prevailing industry wage, whichever is higher.

"It's important to make sure that the wages paid to the people brought in on a visa do not hurt the wages of the workers in the same shop, in the same city, in the same industry," DiBitetto said.

Immigrant workers will also be able to change employers and eventually apply for green cards. It doesn't mean all sides are walking away from the deal entirely happy. Some business groups say the number of visas is not sufficient and that it's problematic that high-skilled construction workers are excluded from the program.

But the eight senators who've been working on drafting a comprehensive immigration bill say the agreement between the Chamber of Commerce and the unions removes what was a significant obstacle on the road toward reform. They're expected to present their proposal next week.