Slamming Oversight, Lhota Says City Needs to 'Un-Handcuff' NYPD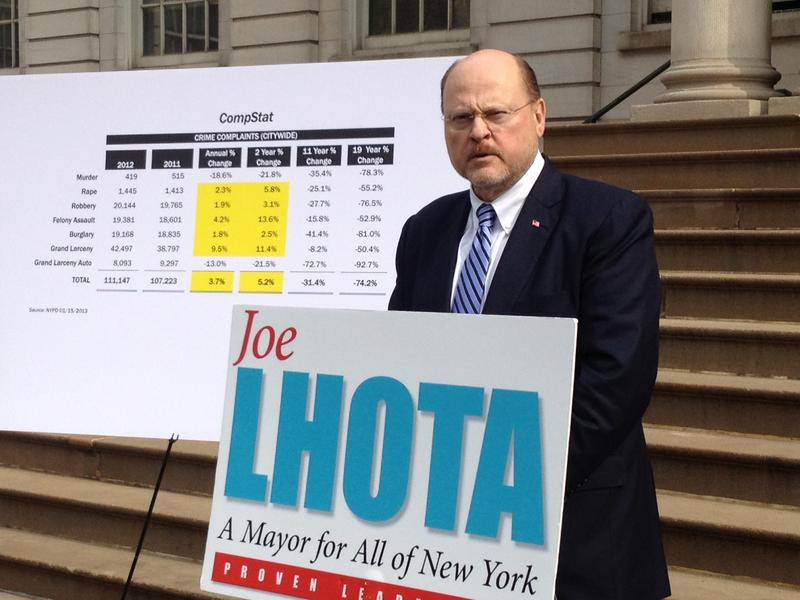 Republican mayoral hopeful Joe Lhota says Council Speaker Christine Quinn's support for a new police Inspector General is "reckless and dangerous."
Quinn, the frontrunner in the Democratic mayoral primary for, announced support for an IG amid criticism from her Democratic rivals. Now, Lhota is criticizing her from the right.
"I absolutely believe it's dangerous in regards to public safety," Lhota said Monday. "We need to do everything we can to un-handcuff the police department to have a laser-like focus and continuation in the reduction in crime and reverse the direction that this is going."
Lhota, a former top aide to Mayor Rudy Giuliani, credited his former boss with the "visionary crime reduction strategies" and praised Mayor Michael Bloomberg's leadership of the police department.
He defended the stop-and-frisk as a policing tactic, though he allowed that there needs to be better training on its use and more community outreach about its value: "I believe it's widely misunderstood and I do believe it's become a political football," Lhota said.
Following Lhota's remarks, Quinn's office distributed letters in favor of the IG bill from the council's Black, Latino and Asian Caucus and former corporation counsels who served under Mayors Dinkins and Koch.
"Joe Lhota simply does not know what he is talking about — he is either ignorant about the details or willfully ignoring the facts," Quinn spokesman Jamie McShane added in a statement. "Chris knows that we can keep our streets safe and improve police-community relations. It's sad that Joe Lhota does not agree."
McShane referenced a 2009 report that found that federal oversight of the Los Angeles Police Department coincided with a substantial drop in serious crime. "The evidence presented here shows that with both strong police leadership and strong police oversight, cities can enjoy both respectful and effective policing," concludes the report by Harvard's Kennedy School and the Los Angeles Police Foundation.