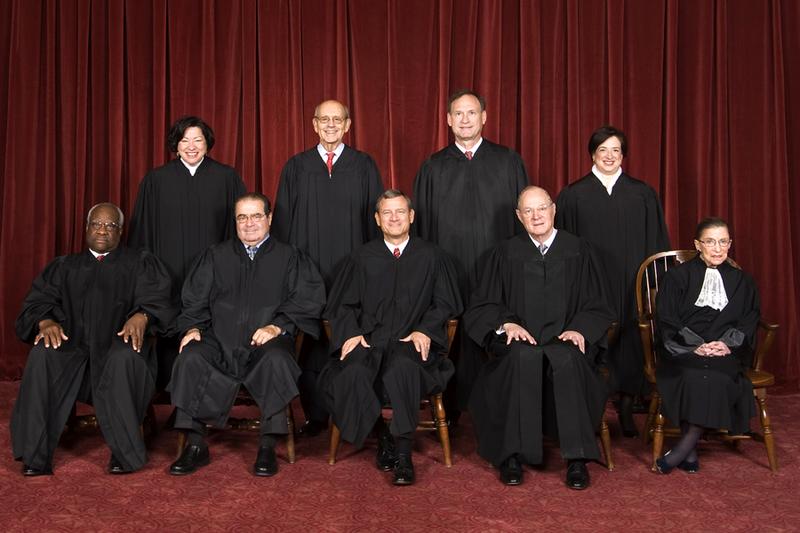 On this week's episode of Gabfest Radio from Slate and WNYC, Political Gabfest panelists Emily Bazelon, John Dickerson, and David Plotz discuss the Supreme Court oral arguments about two momentous gay marriage cases, one involving California's Proposition 8 and the other focusing on the federal Defense of Marriage Act (DOMA). They also consider This American Life's investigation of why so many Americans are receiving disability benefits.
Then on the Culture Gabfest portion of the show, Dana Stevens, John Swansburg, and June Thomas discuss Phil Spector, David Mamet's HBO movie about the music producer's murder trial, from its soggy, static scenes to its intense wig action. The Culturefesters then ponder Spring Breakers: Does Harmony Korine's latest movie offer ecstatic freedom and transcendence or merely a lecherous camera focused on bikini-clad gyrations? Finally, they discuss Lew Wallace, the disgraced Civil War general and author of the best-selling novel Ben-Hur: A Tale of the Christ.
Join the Gabfest discussion all week long at the Political Gabfest Facebook page and the Culture Gabfest Facebook page.
Here are links to some of the items mentioned in this week's episode:
POLITICAL GABFEST (Click here for this week's individual episode at Slate):
Emily filed reports from this week's Supreme Court hearings on  United States v. Windsor and Hollingsworth v. Perry. She also shared an up update with Stephen Colbert.
If the purpose of marriage is procreation then why allow infertile couples to marry? It builds support for "the marital norm," argued a lawyer defending Prop 8 at the Hollingsworth v. Perry hearing. Slate's Will Saletan writes that while this argument may offend liberals, it's the gateway that could allow more conservatives to support marriage equality.
David references Andrew Sullivan's landmark essay, from 1989, about why conservatives should support gay marriage.
David recommends Nate Silver's survey of how public opinion about gay marriage is changing.
This American Life on why the number of Americans receiving disability benefits has doubled over the past 15 years,
reported by Planet Money's Chana Joffe-Walt.
CULTURE GABFEST (Click here for this week's individual episode at Slate):
Los Angeles Times reporter Harriet Ryan on HBO's Phil Spector.
Troy Patterson for Slate on Phil Spector.
Dana Stevens' Slate review of Spring Breakers.
The movies of writer/director Harmony Korine.
The rapper RiFF Raff.
Spring Breakers' costume designer Heidi Bivens on selecting wardrobe for the movie.
John Swansburg on "The Passion of Lew Wallace" for Slate.
The 1880 book Ben Hur: A Tale of the Christ, by Lew Wallace, and its 1959 film adaptation Ben-Hur.
Endorsements:
June's pick: The British soap opera Coronation Street, which has been on the air for more than 50 years (and is the best TV show in the history of the world) and is now available on Hulu.
John's pick: James Salter's forthcoming novel All That Is.
Dana's pick: The 2009 documentary The Agony and the Ecstasy of Phil Spector, available in nine parts on YouTube.
End Music: "Spanish Harlem" by Ben E. King, co-written by Phil Spector.