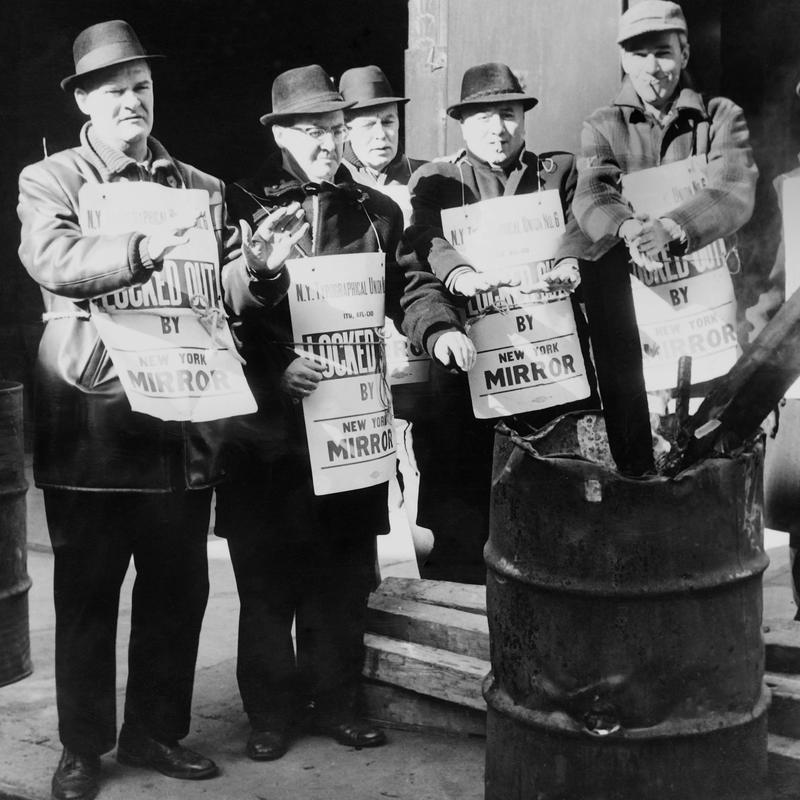 If you're reading this, you're looking at a computer screen, a cell phone, a tablet, or some other powered-by-electricity, hooked-up to the internet, technological device. Just 50 years ago, in 1963, the internet didn't yet exist, and broadcast news was nowhere near the 24-hour coverage of today. People largely received their news through newspapers. And, 50 years ago, New York City was just emerging from a 114 day newspaper blackout.
Nowadays the news of a lack of newspapers is, well, old news. But, at the time of the strike in 1962, newspapers, and newspaper readership, were thriving in New York. While radio and television carried news, the broadcasts weren't of the same breadth and depth as daily newspapers. It wasn't until later in 1963 that network television extended their daily news broadcasts from the standard 15 minutes per day to 30 minutes. Papers, in 1962-63, were the source of news and also cultural currency. Papers served a need, filled a void, and made the 114 news-less days dark ones for New York City.
Universal Newsreel Film Footage
New York is suffering a news blackout with nine major newspapers strikebound. Seven craft unions, led by the International Typographical Union, struck at four plants. And the other five newspapers closed down in sympathy. The publishers and the unions are far apart in negotiations. And it appears that newspaper offices will be silent far longer than in the 19 day Christmas season strike of four years ago. In that stoppage the publishers lost 25 million dollars and 19,000 employees lost five million in wages. Out of town newspapers are selling like hotcakes to news-starved New Yorkers who normally read papers to the tune of 6 million a day. Merchants say that the blackout of advertising spells economic disaster for many stores.
No News, Not Good News
The 114 day strike was preceded by several shorter-lived strikes in the city – newspaper and otherwise. Labor union politics was nothing knew by '62. Labor unions, which began forming in the United States in the 1800s, strengthened and faltered at the whim of political forces and, save for The New Deal and FDR's support of unions, existed under a chronic fight for resources. A series of shorter-lived NYC strikes led up to the '62-'63 strike: a 1945 strike shuttered newspapers for 17 days, the 1958 Christmas season strike shut down major daily news production for 19 days, and several others.
Who keeps my paper from the door
I abhor
It gives me early morning blues
To miss the news

-Margaret Fishback, on the cover of The New York Herald Tribune, at the conclusion of the 1953 NYC newspaper strike
Cultural commentator Gilbert Seldes remarked on his long-running WNYC program "The Lively Arts" in 1953: "City dwellers without newspapers breathe an ominous air, as though the smog were descending." Not a light sentiment considering the country's recent emergence from World War II, and dip into The Cold War.
People without Papers, The Study
News, and the lack thereof, was on the minds of Columbia University's Journalism school when, in 1958, a labor dispute caused all seven major New  York city daily newspapers to suspend publication for nineteen days. A fleet of young J-school students took to all five boroughs, plus Connecticut and Long Island, to ask readers what they missed about newspapers during newspaper strikes. The comments are dramatic.
I'm utterly lost
It's been just awful
Being without papers is like being without shoes.
I just can't seem to relax. I used to come home from work and relax with a paper. I can't relax anymore. It's terrible.
I miss the gossip, the dirt. It's like taking part of my life away.
It's pretty lonesome without papers. I feel a great void.
I just don't feel right, that's all. I can't put my finger on it, but it upsets me.
I sleep on the sofa to make the time go before work. I work nights. Usually I lay down and read the paper. Now I just sleep.


All from a nineteen day strike.
Four years later, The Big Six printers union called the '62-'63 strike – this union's first official strike since 1883 -  led by a new, willful president named Bertram Powers. Powers led the strike – first in a short-term strike against The Daily News in November 1962, which was resolved with an $8/week wage increase over one year. But, on December 4th, 1962, the Big Six was back, representing nine major newspapers, demanding a $38.82 increase over two years. Powers, a relatively new president of the Big Six, wouldn't budge on this number. The strike call was confined to printers at five papers, including the Times. Four other papers struck in solidarity. And so, starting on December 4th, 1962, New York City was largely without news, for sixteen weeks.
The Daily News on Strike, 1962
The 1962-63 Newspaper Strike, and its Aftermath
There was more to the strike than just money. As with the current newspaper crisis, the veil of technological advancement threatened the jobs of long-time printers: "The greatest fear of the printers' leader, Bertram Powers, was that technology would render his union members obsolete," wrote Arthur Gelb in "City Room," his memoir about working at the Times. There was a lot at stake for the future of journalism in the 1962-1963 newspaper strike.
On February 21, 1963, 75-days into the strike, with millions of dollars of in advertising and workers' revenue lost, and few signs of an end, President Kennedy spoke of the strike specifically in a Washington address.
"The situation has long since passed the point of public toleration…This is a situation which is bad for the union movement all over the country. Bad for the newspaper managements. And bad for the New York citizens, more than five million of them, who are newspaper readers."
Kennedy continued his concern for progress of the '62-'63 strike. Also recorded during this time were calls between Kennedy and strike negotiators.
Negotiator: However I thought you'd like to know, very much off the record, that things look fairly good.
Kennedy: Yeah, yeah
Negotiator: I think the circumstances for a settlement are better now than they ever were
Kennedy: Yeah, yeah
Negotiator: And I think it started with your statement, actually.
But the strike marched on for 39 more days. Mayor Robert Wagner got involved, as well as labor negotiator Theodore W. Kheel. Together the negotiated an end to the strike, with newspaper workers receiving $12.63/week in wage and benefit increases. Although banned from appearing in person, the Mayor sent a letter endorsing the revised union packages.
On April 1, 1963, the day newspaper publication resumed, the New York Times published a comprehensive article: "A Step-by-Step Account." It opens: "This is a history of failure – the failure of men and machinery, of politics and personalities, of miscalculated maneuvers and misjudged aspirations."
Early in the 62-63 strike, George McDonald, president of the Allied Printing Council of Greater New York spoke on a regular WNYC program, "Labor Press Conference" on the strike. Audio courtesy of NYC Municipal Archives.
Question: Mr Macdonald the question always comes out, the man on the street, that one or two or three of the papers in New York City will fold as the result of this strike if it's prolonged. Should these papers fold, should one paper fold, what will happen to the printers – the pressman – the mailers – employed by that newspaper?

Macdonald: To answer that, I really doubt that any papers in New York City will fold because of this strike.

(LONG SILENCE)
Despite the predictions to the contrary, the 1962-63 strike was credited with closing four of New York's nine major daily newspapers, costing a total of $100 million dollars in lost advertising revenue, and $5 million in lost wages for the 19,000 striking workers. NYC newspaper readership plummeted after the strike. Some sources say it didn't return until JFK's assassination later on in 1963.
Just 50 years ago today NYC newspapers were eagerly anticipating the familiar, if long-absent, "thump" of their Sunday papers landing at their doors. Today, as newspapers seem to be going out of business on a weekly basis, the tangible paper may be falling out of favor, but people, as ever, still need news - even if they're receiving it online, as people without papers.
Special thanks to the WNYC Archives for providing some of the audio in this article.