Warrants Released in Sandy Hook Shooting Investigation
Thursday, March 28, 2013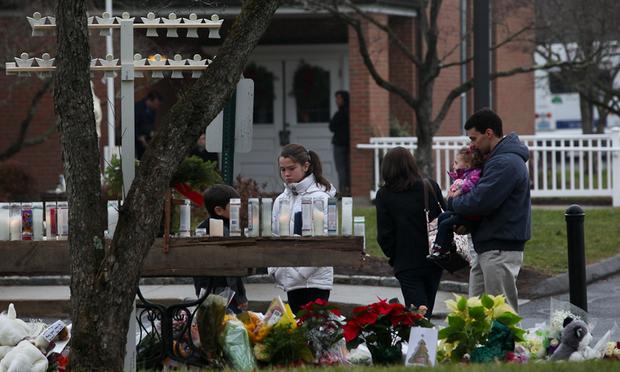 (Stephen Nessen/WNYC)
Warrants that investigators used to search the home and car of the man who shot and killed 26 people inside a Newtown elementary school were released Thursday morning, as well as information about the ongoing investigation. The documents were sealed for 90 days during the investigation. 
The documents (PDF) reveal Adam Lanza kept an arsenal of ammunition and weapons in his mother's home. Lanza killed 20 children and six teachers at Sandy Hook Elementary School last December. He also killed his mother that day, and finally shot himself.
Found in the house were boxes of ammunition for a Ruger, Winchester, Blaser and Lawmen rifles; a Savage Mark II .22 caliber rifle with a magazine; an Enfield Albian bolt action .323 caliber rifle; and nine knives, including three samurai swords. Other items that begin to outline who Adam Lanza was include various book on autism, a photo of a dead person wrapped in plastic and a certificate from the National Rifle Association.
In a statement online the NRA notes, "There is no record of a member relationship between Newtown killer Adam Lanza, nor between Nancy Lanza, A. Lanza or N. Lanza with the National Rifle Association."
The FBI interviewed one person, whose name was redacted, who said that Lanza rarely left home, played the video game Call of Duty and had at least four guns in a gun safe. The person said Sandy Hook was Lanza's "life."
The documents confirmed that Lanza's computer was smashed.
The Conn. State Attorney Stephen J. Sedensky III released a document Thursday detailing parts of the ongoing investigation. It notes that a 12-gauge shotgun was found in Lanza's black Honda Civic outside Sandy Hook Elementary School and that the shooting was over in less than five minutes.
It notes that all of the guns recovered were purchased legally. "There is currently no indication that the shooter attempted to purchase the guns and was denied. The gun locker at 36 Yogananda St. was open when the police arrived. It was unlocked and there was no indication that it had been broken into," Stephen J. Sedensky, Conn. State Attorney for the Judicial District of Danbury wrote in a statement.
Lanza, 20, used his mother's Bushmaster rifle in the shooting. He killed her before driving to the school. She was found in her bed with a gun shot wound to the head.  A rifle was found near the bed. Lanza killed himself in the elementary school with a single shot from a Glock 10 mm handgun, according to investigators.
The full report may be completed by the summer.
Inside a Killer's Home - here's what authorities found in the home Adam Lanza shared with his mother:
Reading List: Books
"Look Me in the Eye: My Life with Asbergers"
"Born on a Blue Day: Inside the Mind of an Autistic Savant"
"NRA Guide to the Basics of Pistol Shooting"
"Train Your Brain to Get Happy"
Arsenal: Weapons discovered
9 knives
3 samurai swords
1 six-foot, 10 inch wood handled pole with a blade on one end and a spear on the other
Savage Mark II .22 caliber rifles
Several boxes with thousands of rounds of ammunition for Ruger, Winchester, Blazer, Lawmen firearms
Documents: Notes and Clippings
NRA certificate
Email from gunbroker.com 
Receipts and emails documenting firearm/ ammunition shooting supplies
Birthday card from Nancy Lanza with Bank of America check made out for purchase of C183 firearm
New York Times clipping dated 2/18/2008 regard school shooting in Northern Illinois University
A handwritten "To-do list" for Nancy Lanza dated Dec. 14-Dec.20
Other items:
X-Box with Call of Duty
Various journals and drawings by Adam Lanza
Smashed computer
Various hard drives and cell phones 
Three photographs with images of what investigators say appear to be dead bodies covered with plastic and blood
Family photos
More in:
Stephen Nessen reports for the WNYC Newsroom and can often be heard live on Morning Edition.