The Effort to Guide Low-Income, Top Students to Elite Colleges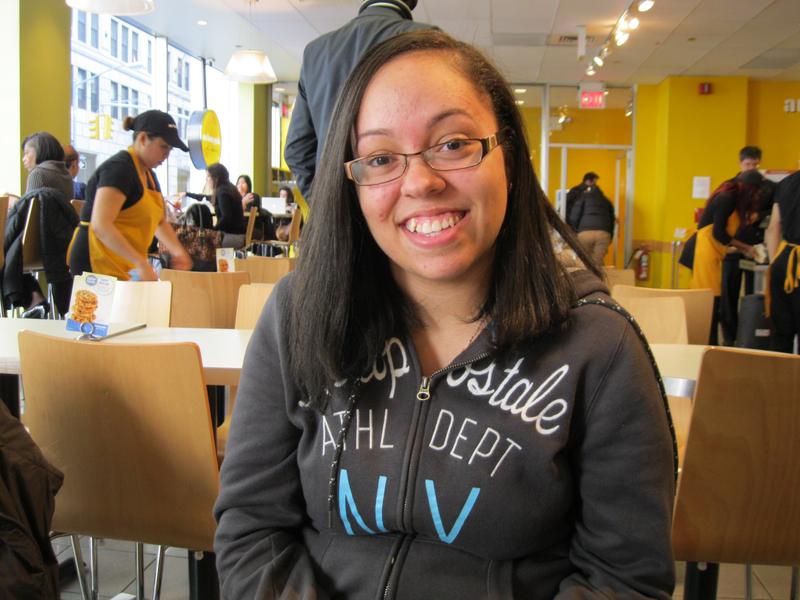 As college acceptance letters go out, Mariely Garcia is one of the high school seniors already breathing easy. She applied early decision to Bowdoin and found out months ago that she'll be going there in the fall on a full-ride.
"I kinda started crying cause I was just so excited," said Garcia. "And I went to my mom, she was in the room, and I was like, 'Mommy, I'm going to college in Maine. To Bowdoin. For free.'"
Compared to her Harlem neighborhood, Garcia said Bowdoin, in Brunswick, Maine, is kind of in "the middle of nowhere." But she likes that idea. She grew up in a public housing apartment and became accustomed to hearing rounds of gun shots, she said. Safety issues troubled her and, as she wrote in her college essay, she found herself "more than ready to move on to a new home in a better neighborhood."
Garcia was able to stay optimistic, and extremely focused, during her high school years. She is leaving the Richard R. Greene High School of Teaching with a nearly perfect grade point average and is first in her class. She's also determined to change the world, she said, and started a Tumblr page called Perfectly Made that aims to combat self-esteem issues among teenagers. She hopes to turn it into a non-profit organization one day.
Despite her talents and motivation, without some tips from her high school guidance counselor and several non-profit professionals, she may not have found her way to a competitive liberal arts college.
Nationwide, there are up to 35,000 high-achieving students who come from low-income families, according to a recent study from researchers at Stanford and Harvard. These are student who score in the top 10 percent or higher on college entrance exams and maintain a grade point average of at least an A-. The data showed that many of these students are not applying to selective schools.
According to the study, top students from higher-income families tend to apply to a range of schools, including the most competitive ones. But only about eight percent of students in families making approximately $41,500 or less annually follow this same practice. In addition, more than half of students in this high-achieving, low-income group only applied to less competitive schools.
The key, perhaps, to getting these students to apply to better colleges is exposing them to their options.
"We do college trips with our students so they can see what it's like on a liberal arts campus," said Jessica Pliska, founder and C.E.O. of The Opportunity Network. "We're talking about schools -- Vassar, Wesleyan -- that are within two and three hours of New York City that our students have literally never heard of."
The Opportunity Network took Garcia on a college tour, which is how she discovered that she loved Bowdoin. The group also provides students with intensive college counseling and mentoring through the college years. There are several organizations in New York City that mentor top high school students in the same way, including the Oliver Scholars Program, Summer Search and Scholarship Plus (New York Public Radio provides internships for Scholarship Plus students).
A California-based organization, Questbridge, works to directly link top-performing students with highly-selective colleges and universities. Garcia applied to Bowdoin through the organization's college match program.
Pliska said her organization, and others like it, exist to compensate for all of the information that low-income students do not grow up with. 
"Despite how talented they are, and how driven they are and motivated they are," said Pliska, "they are sitting so far outside of any spheres of influence and knowledge about what it means to get accepted to college and go to college and build a career."