Trails of Post Sandy Debris Surface with Spring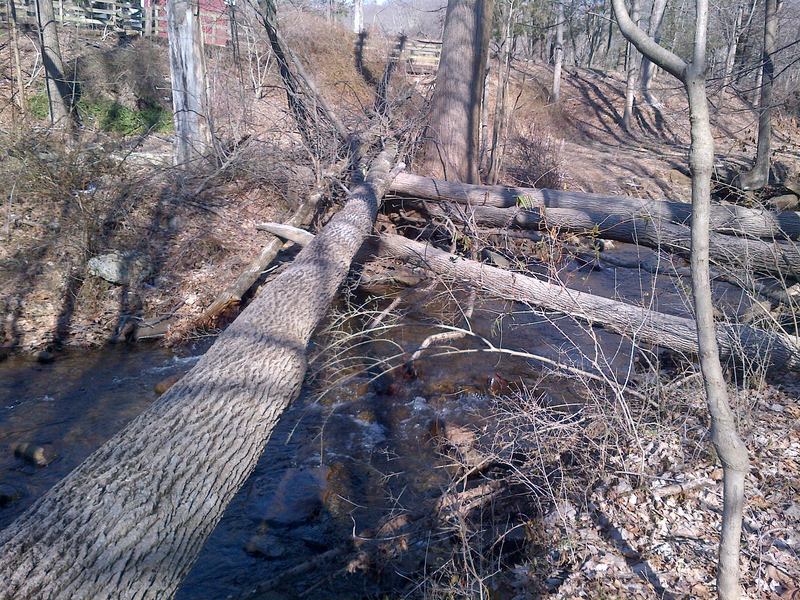 A lot of attention has been focused on the damage Sandy caused to beaches. But as spring blooms, officials are just now getting a sense of what a blow the storm was to millions of acres of public forest lands and hiking trails.
Deep inside the Dismal Harmony Natural Area in Morris County, the Dismal brook races under massive upended trees knocked over by Sandy's sustained tropical force winds. In some places the uprooted trees have altered the stream's course. In other sections, it has slowed the flow of water.
Jennifer Martin, a college biology teacher, says the hiking trails along the brook took a beating. 
"Just a tremendous amount of trees down everywhere. And anywhere any sort of trail markings, wood markings or whatever, they're all down."
Sandy Batty, with the Association of New Jersey Environmental Commissions says local conservation officials are still surveying hundreds of thousands of acres of public lands to get a handle on Sandy's impact.
"There's a lot trees that are hung up on other trees and have suffered damage but have not come down yet," Batty said.
For weeks after Sandy struck, officials focused on clearing roads and utility lines. But now, their attention has turned to the extensive Sandy damage to public open spaces like athletic fields, hiking trails and wilderness areas. Stephen Mountain, the administrator for Mendham Township in New Jersey, says Sandy took a toll on his community's 3,000 acres of open space.
"Even in a normal Spring we would have to go do some pruning and tree cutting to deal with fallen trees. In this Spring we are dealing with five times the amount of debris clean-up," Mountain said.
Mountain said FEMA will reimburse Mendham for 75 percent of the special Sandy spring clean-up costs, that could be as much as $250,000 dollars.
The local Environmental Commission is also looking for volunteers to help with the park clean-up efforts.  
Steve Maurer is with New Jersey's Forest Fire Service which is responsible for 3.5 million acres of forest. He says hikers need to be aware that Sandy significantly altered the forest terrain and made it more of a challenge for fire and other first responders to move around in these wilderness areas.
"They may be able to hike. They maynot be able to," Maurer said. "And one of the other things they need to be aware of is if they get into those areas it might be difficult if they run into trouble for someone to come in to get them just because of access issues."  
Maurer says the additional downed branches and trees from Sandy provide a plentiful fuel source for a potential forest fire. And he says from now until May is actually the worst season for brush and forest fires.