Quinn's Tough Week to Continue with Paid Sick Leave Hearing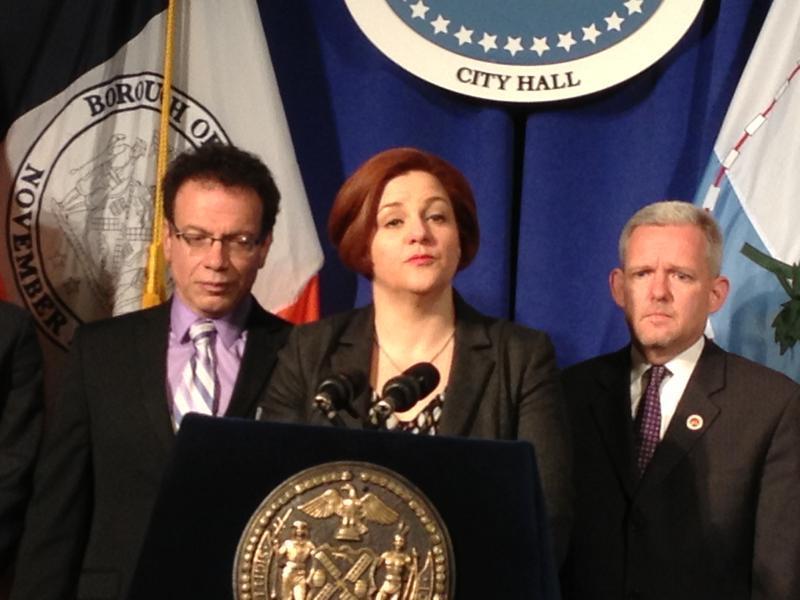 It's already been a tough week for Council Speaker Christine Quinn, whose support of an NYPD Inspector General drew the ire of Mayor Michael Bloomberg. And on Friday, she'll be facing more heat - this time from the Democratic side. A paid sick leave bill that Quinn doesn't support gets a public hearing for the first time this campaign season on Friday, and it comes the week after two other cities passed similar laws.
In Portland, Oregon, it was a lovefest as the city passed its paid sick leave bill.
"This is justice. It's the right thing to do. It's a good day for Portland," Mayor Charlie Hales said as he cast the fifth and final vote for the ordiance, which passed unanimously. "It can't get any better than that for today! We're adjourned." Mayor Hales said over applause.
A day later, the Philadelphia city council passed a paid sick bill, but the victory there was more muted. Mayor Michael Nutter, a Democrat, is expected to veto it, as he did when a similar ordinance passed in 2011.  
"I care a great deal about paid sick leave, but I care even more about people getting paid," Mayor Nutter said then. "People need jobs and that's our number one priority."
That's the also position of New York City Council Speaker Christine Quinn, the leading Democratic candidate for mayor. She's repeatedly said she supports the idea of paid sick leave – but not right now. 
And she's getting hammered for it.
This week, ads started running on four Spanish-language radio stations. They're targeting Quinn by name, and asking her to bring the bill to a vote.
They're paid for by the Working Families Organization – the 501c4 cousin of the Working Families Party, which has been organizing and strategizing nationally to build momentum here. They were involved in Portland and Philadelphia. And they led the effort in Connecticut, which became the first state to pass paid sick leave in 2011.
Connecticut's law is broader, covering bigger employers, with fifty or more workers. In New York City, the threshold would start at five employees.
But it's a precedent to build from, and the Working Families Party is using primary election politics to advance the cause.  
"This is an issue whose moment has come," Working Families Party Executive Director Dan Cantor said this week. "People have memories, and they will note who is standing up for them and who is not. So yes, it's now into the electoral season in New York, but that's only because we didn' t have the vote last year, or the year before that, or the year before that."
All of Quinn's Democratic primary rivals support the bill. Public Advocate Bill de Blasio, who has been heavily courting the Working Families Party, regularly appears at their protests. This week, the de Blasio campaign added an online attack video that excerpted Quinn's mayoral launch video, and followed it with a parade of New Yorkers calling for action on the paid sick leave bill.
Former Comptroller Bill Thompson also joined in the criticism this week, offering a compromise: a one-year grace period before the ordinance would go into effect. 
Quinn's not just getting pressure from her primary challengers. There's also heat from her backers, including Gloria Steinem, who said she'd rescind her endorsement of Quinn if there's no vote. And Congresswoman Carolyn Maloney, a co-sponsor of a federal paid sick leave bill that was re-introduced this week, advocated for the city bill even as endorsed Quinn this week in Manhattan. 
"Chris and I don't always agree with the mayor. We don't always agree with each other. She doesn't always agree with me. She's called me on things that she doesn't agree with," Maloney told reporters, adding, "I believe very strongly in paid sick leave."
For now, here in New York, Quinn says her primary rivals can testify at the public hearing along with everyone else.
 "I would urge former Comptroller Thompson and Public Advocate De Blasio and anyone else who has thoughts or concerns to come to the hearing and make their perspective and position known."
And they're expected to be there — along with Comptroller John Liu at a pre-hearing press conference. They say they won't be satisfied until Quinn allows the council to vote, a vote supporters say they'll win.