Bus Tour Brings Philip Roth's Newark to Life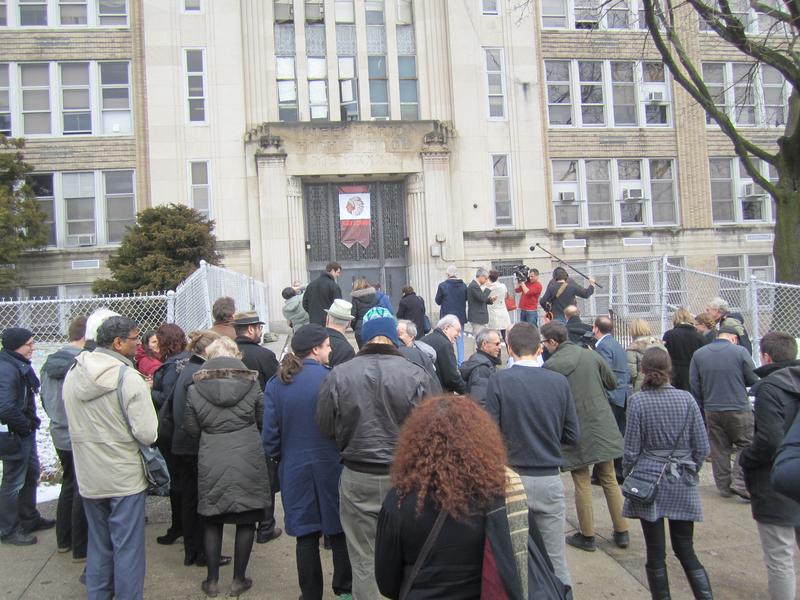 It's a curious way to celebrate a famous writer's 80th birthday: go back to the city of his youth and read excerpts from his books.
For Philip Roth and Newark though, it is a natural fit, given how prominently the city figures in his novels. And so 140 people clambered on board buses Tuesday to take part in a three-hour tour put on by the Newark Preservation and Landmarks Committee that showed to what extent literature really does mirror reality.
At each stop, the tour guide would ask for a volunteer to stand up and read a relevant excerpt from Roth's oeuvre. Outside the Newark Public Library, it was a passage from "Goodbye Columbus" about the protagonist cooling his heels in the park across the street. In front of Weequahic High School, the public school in the largely Jewish neighborhood where Roth grew up, it was this sly observation from Portnoy's Complaint: "At football our Jewish high school was notoriously hopeless (though the band, may I say, was always winning prizes and commendations)."
The centerpiece of the tour was a stop outside Roth's boyhood home on Summit Avenue. Except that other than the plaque announcing it as the place where a famous writer grew up, it is an absolutely ordinary three-story house with yellow siding. Its stand-out quality to many tour participants was that it was so small.
"It's unusual to imagine three families living in there," said Patrick Hayes, a professor at St. John's College at Oxford University. But otherwise, Hayes said the neighborhood was much like he expected it to be. "It's a pleasant area," Hayes said. "I can understand why he has such affection for Newark and remembers it so fondly."
Indeed, while much of Newark declined in the decades since Roth left, Weequahic is still working class, now African-American instead of Jewish. A little while later, the tour took in a sight reminiscent of American Pastoral: acres of vacant lots left over from the 1967 riots. Critics have pointed out to what extent Newark's history is a parable for the type of decline that the family in that novel undergoes.
Hayes, like many others on the tour, had taken part in a day-long conference the day before, Roth@80, held at the Robert Treat Hotel downtown (where members of the House Un-American Activities Committee stayed in I Married a Communist). Some attendees, while happy to go on the tour, doubted to what extent seeing the real thing mattered, since Roth did such a good job describing the places in his books.
After all, the settings of Roth's novels are not as memorable as are his compulsive, self-doubting characters. One tour participant almost sounded like one of them when he confessed to feeling a little guilty about the spectacle of three bus-loads of academics wandering through ordinary neighborhoods.
"As a tourist it's great," said Danny Anderson, an assistant professor from Emmanuel College in Franklin Springs, Georgia. "But as a real person I would feel a little grumpy if all these crazy people were coming to my house taking pictures and pretending to ring the doorbell."