Cop Who Shot Ramarley Graham Back in Court
Tuesday, March 19, 2013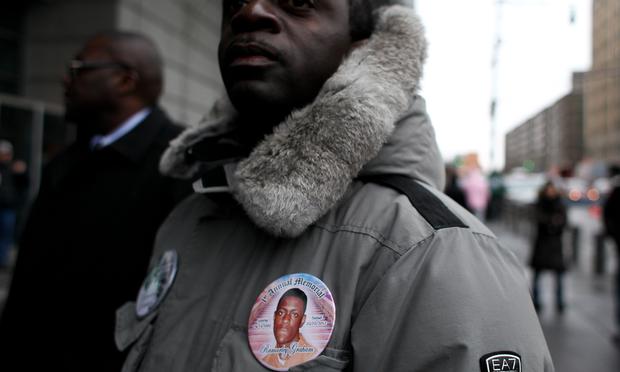 (Stephen Nessen/WNYC)
A police officer accused of shooting an unarmed 18-year-old in the Bronx last February was back in court Tuesday.
Officer Richard Haste is charged with two counts of manslaughter. Haste has pleaded not guilty in Bronx Criminal Court. His lawyer Stuart London said Haste believed he saw a weapon on Ramarley Graham and "acted accordingly." No gun was recovered at the scene.
"He continually asked the individual to see his hands. 'Let me see your hands, let me see your hands.' The officer's state of mind, we feel, indicated he thought his life was in serious physical danger, and he had no option but to discharge that weapon," London said.
Graham's family and friends attended the proceedings, taking up an entire bench in the courtroom. More than a dozens of activists who've been outspoken critics of the NYPD's use of stop-and-frisk were also at the court house. Francelot Graham, Ramarley's father, has become an outspoken critic of stop-and-frisk since his son's death.
Francelot Graham has attended vigils in East Flatbush for another teen shot and killed by police on March 9, Kimani Gray.
"It's sad to see another family going through that, of course it's sad. I know how the family is feeling right now. I know the pain his mom's is in. These things shouldn't be happening still," Francelot said outside the courtroom.
The Kimani Gray investigation is ongoing. Unlike with the Graham shooting, police say a gun with four bullets was recovered at the scene of the Gray shooting. The NYPD have placed the officers involved in both shootings on administrative duties.
In Tuesday's hearing, the judge agreed to inspect the grand jury's indictment of Officer Haste, and set a future court appearance for May 7.
"We're not fighting against the entire NYPD, I'm quite sure there's a good majority of the police officers there," Francelot said. "We just want the bad cop out of our city not to be carrying a badge and a gun."
More in:
Stephen Nessen reports for the WNYC Newsroom and can often be heard live on Morning Edition.