Liu Announces Mayoral Run Amid Crowds of Supporters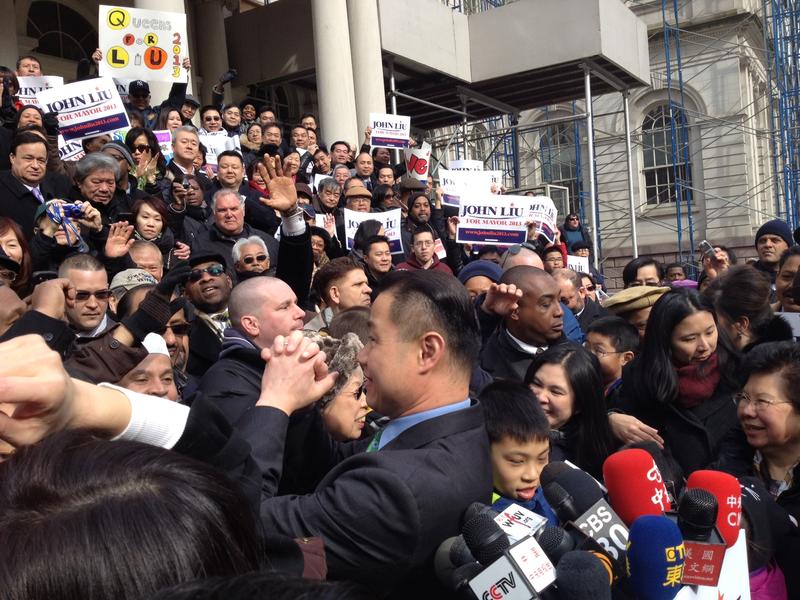 City Comptroller John Liu announced he is joining the crowded field of Democratic mayoral hopefuls in a chaotic scene at City Hall on Sunday. Hundreds of supporters crammed in to stand behind him as he announced, and others were moved to overflow areas, which forced Liu to deliver his speech twice.
"Other candidates will also talk about housing, public education and job creation, about struggling families and tough times," said Liu, a Taiwanese immigrant. "But the difference between them and I is I've lived it."
Liu blasted "Mayor Bloomberg and his enablers" for making it too hard for working families in New York, and repeated his pledge to raise the minimum wage and end stop-and-frisk, which prompted his supporters to break into chants of "Mayor Liu! Mayor Liu!"
Liu did not directly address the cloud hanging over his campaign in his speech: a federal corruption trial next month of two former campaign associates. Liu has not been charged with any wrongdoing and the two associates have pleaded not guilty. But Liu did imply that he's been unfairly targeted.
"When you go after powerful people and rich corporations, they're going to come after you. They certainly have made my life challenging. But let me be clear. We are not backing down," he said, drawing cheers from the crowd of supporters.
Liu became the first Asian American to win citywide office in 2009, after winning a Democratic primary and run-off.  That was before a federal investigation into his campaign fundraising. Federal prosecutors allege that Liu's former campaign treasurer and a fundraiser created fake donors to evade campaign limits.
Liu has taken to boldly daring the federal government to "put up or shut up" in its investigation of him.
Like Council Speaker Christine Quinn and Public Advocate Bill de Blasio, Liu combined his campaign roll-out with a packed tour of all five boroughs. At some stops, like at the St. Patrick's Day parade on Staten Island, he mostly introduced himself to unfamiliar voters. He was repeatedly asked about his position on the soda ban. "I think it's silly," Liu said, "It intrudes too much and it's arbitrary." That was a comfort to Keith Schacht, a 23 year-old paralegal from Staten Island who opposes the ban and voted for Liu in 2009, but said he's still undecided in the mayor's race.
But when Liu arrived later at a Lunar New Year luncheon in Flushing, Queens, the audience greeted the Taiwanese immigrant with spontaneous applause, and broke into chants of his name in Mandarin, and "elect him" in Tiawanese.
That was his last stop before Liu arrived to the crowded, chaotic hero's welcome at City Hall. From there, he had a half dozen more stops with voters, ending at 10pm after starting at 8 a.m. for church services in Crown Heights and Bedford Stuyvesant, Brooklyn.
Retail politicking is a hallmark of Liu's style, but he dismissed a suggestion that he was outworking his opponents.
"None of this is work. This is all fun and games. Work is my mom in a sweatshop seven days a week," Liu said on Staten Island. "This doesn't even compare to what real work is."
Liu also mentioned his mother's work in his speech on the steps of City Hall, even though that claim stirred controversy in his 2009 comptroller campaign. A Liu campaign ad mentioned his mother working in a sweatshop, but his mother told the New York Daily News that she mostly had worked from home for the garment industry.