After Sandy, Staten Islander Must Decide Whether To Stay Or Walk Away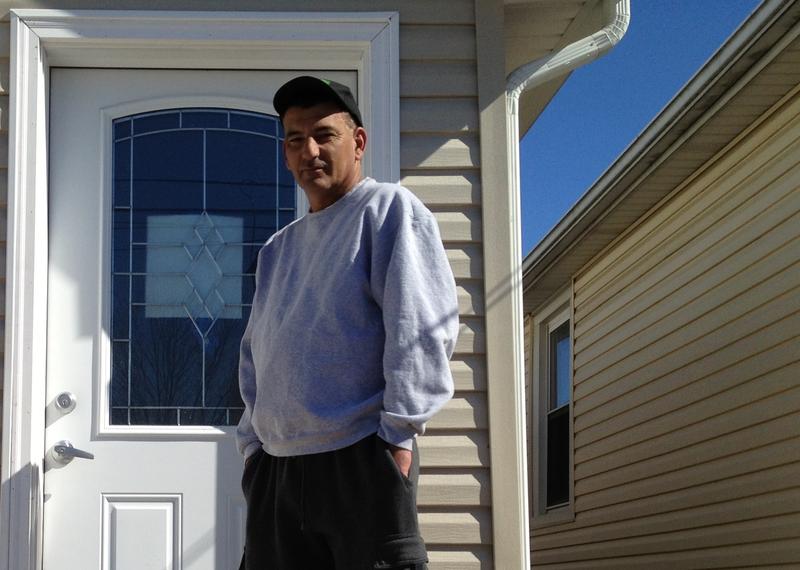 Staten Islander Stephen Drimalas has been through a lot since Sandy flooded his Ocean Breeze neighborhood and drove him from his home. He's discarded his ruined possessions, slept in his car, battled red tape and come close to giving up and moving to Florida. He ended up renovating his home and, two weeks ago, moved back in. But after all that, Drimalas still isn't sure if he's going to stay.
His fixed-up house has new appliances, recessed lighting, a bathroom covered in bright white tile. 
"Doors, windows, everything done," he says. New washer and dryer, hot water heater, forced air heating system, everything brand new."
This makeover was subsidized by taxpayers. The National Flood Insurance program, which he's paid into for seven years, paid out $86,000 dollars. And $6,000 for new furniture came from the Federal Emergency Management Agency. Drimalas's homeowner's insurance kicked in $1,700, and he figures he's spent $12,000 dollars on his own.   
And there's more to do.
If he keeps his house at its present height--four feet off the ground--he'll have to pay much higher flood insurance. Or he can lift the house several more feet--but the government hasn't finalized how many. Putting his house on a higher foundation would keep his flood insurance premiums down. But it'll cost him up front.
"If I have to go for another 30, 40 grand out of my pocket to lift the house, I don't know I'm going to do,"  he said.

Or he could take a buyout from the state and walk away. Governor Cuomo's Sandy relief package is providing hundreds of millions of dollars to purchase and remove homes in flood-prone areas.
Drimalas, who's 46 and single, is thinking about leaving. Out on the curb, he can't help remembering how the block looked before the water came rushing in, back when every house was occupied ... before the demolitions.
"Two houses gone right here," he said. There's one house that's still standing. Then there's another gone. Then there's two houses that are still standing and the one on the corner is gone."
It's lonelier than before.
"When it snowed, some of the kids across the street used to have snowball fights. You didn't see anything this past snow. Nothing. I miss it."
His neighbor walks up to us. He gives his name as Charlie and says he's a retired court officer who lives two doors down in a four-unit townhouse that was built to weather a flood. You have to walk up two flights of stairs just to reach the first floor. Charlie says his unit was largely unscathed. Would he take a buyout?
"Absolutely," he said. "I'll get out of here. if they give me a buyout I'll buy a condo in a community for older people."
Drimalas thinks Sandy was a fluke; Charlie disagrees. He says it used to be pleasant to look out his window and see the waters of the bay about 800 feet away. But now that water seems much closer, and more menacing, than before.
"There's a lot of storms," Charlie says. "I'm up at night looking out the window to see if, and I'm gonna wake my wife up and get out of here if it starts again. Can't live like that."
As for Drimalas, he keeps changing his mind. Sometimes he says this about living near the water: "I like it. It's nice to have the beach." Other times, he says this: "I'm not sure. If I get a buyout, if it comes close to what I want, I might just do it."
If Drimalas does qualify for a buyout, and takes it, his house will presumably be demolished. All the money and labor tied up in his small but tidy bungalow, both before and after the storm, will be crushed, compacted, and hauled away.