Holocaust Remembrance Day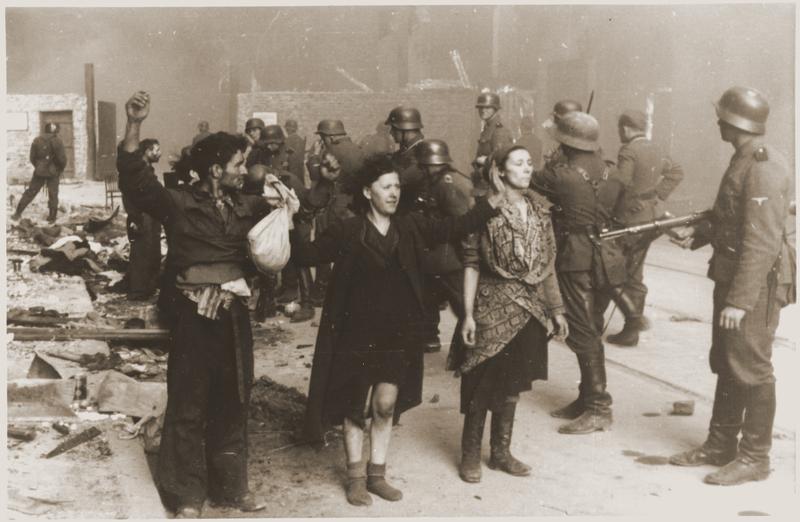 It is April 19th, 1944. Thousands of mourners silently march from a service at the Warsaw synagogue on Rivington Street to City Hall.  A few carry signs: "Save Those Jews in Poland Who Can Yet Be Saved!" and, "Three Million Polish Jews Have Been Murdered By the Nazis!"  When they arrive at the steps of City Hall, Cantor Moishe Oysher sings El Mole Rachamim, a funeral prayer for the the 40,000 Jews who died a year earlier in the Warsaw Ghetto uprising.
The Chief Rabbi of Vilna and former Polish Senator, Isaac Rubinstein tells the crowd of mourners and those listening over WNYC, "A year ago, the remnant of what had been the greatest Jewish community in Europe decided to offer armed resistance to the brutal German murderers."
Warsaw, the capitol of Poland, had been the home of nearly half a million Jews, about one third of its residents. When the Germans invaded Poland in September, 1939 and occupied Warsaw, they forced all Jews into a crowded ghetto. Eight-foot-high walls topped with broken glass and barbed wire closed off the inhabitants. Within a few years, starvation and deportations to slave labor and concentration camps reduced the number of Jews in Warsaw by more than ninety percent. After meeting with unexpected resistance from ghetto fighters, on the eve of Passover 1943, the Nazis attacked. Rabbi Rubinstein said, "Against heavy odds, they resolved to fight. Not in defense of their lives, for there was no chance to win the battle.  It was harder to save the dignity of their people and to wake the conscience of humanity."
Jews in the Ghetto fought the Nazis with home-made bombs made with broken light bulbs and nails. In a 1993 interview partisan and survivor Vladka Mead said, "My assignment was to try to obtain, in any possible way, arms for the fighters' organizations… buying dynamite.. smuggling out all kinds of jewelry and selling it to buy the things that were necessary for the primitive factories making Molotov cocktails."[1] Senator Rubenstein put it this way, "For 42 days and nights, all the Jews of the Warsaw Ghetto -- men, women and children, old and young, fought almost with naked fists."The Nazis systematically burned or blew up the ghetto block by block, building by building. Within a month and a half the entire ghetto was razed to the ground.
The 1944 gathering at City Hall Park was not only a memorial for the dead but also a call to action for those still alive.  The war was not over and the death camps were still in full operation. Dr. Joseph Thon, head of the General Zionist Organization of Poland and former Editor of the Polish daily Chwila of Lwow, pleaded for support.  "Mr. Mayor, at this moment we stand before you as mourners and with hearts full of pain.  In our desperation we ask your voice to be heard...Mr. Mayor, help us bring our message to places where the fate of our surviving brothers and sisters may be decided.  Help us save them! Chaim Yisrael Chai! The folk of Israel will live forever!"
From his chair on the podium, Mayor La Guardia may have heard these cries for help more acutely than the crowd knew.  Mayor La Guardia's mother was Jewish, and his biographer Thomas Kessner writes that, "although La Guardia did not think of himself as a Jew, his estranged sister was in Europe and he was aware that she had been taken away by the Nazis."[2] The Mayor calls the event "one of the most impressive ceremonies that has ever taken place at this historic spot..."Every man and woman here assembled is mourning the death of some dear one who was brutally and cruelly murdered by the armed forces of the Nazi government."
Warsaw Ghetto photo from Jürgen Stroop Report to Heinrich Himmler, May 1943. The original German caption reads: "Forcibly pulled out of dug-outs". (United States Holocaust Memorial Museum via Wikimedia Commons)

Confirmed reports about the extermination camps had reached the public as early as November 1942. CBS correspondent Edward R. Murrow read this copy over the air only a month later. "What is happening is this: Millions of human beings, most of them Jews, are being gathered up with ruthless efficiency and murdered... Since the middle of July, these deportations from the Warsaw ghetto have been going on.  Those who survived the journey were dumped out at one of three camps, where they were killed. The Jews are being systematically exterminated throughout all Poland... The phrase 'concentration camps' is obsolete, as out of date as 'economic sanctions' or 'non-recognition.'  It is now possible to speak only of extermination camps."[3]
Mayor La Guardia told his audience of survivors and mourners their voices would be heard. "The American people understand the plight of the people of Jewish faith in Europe.  The need to go to their rescue is high on the list of the military actions that are to take place before long."
Although the Mayor was optimistic, little changed. On the home front, U.S. immigration laws were so zealously enforced that even official quotas for Jews were not filled. Many who were turned away were sent to concentration camps. Long after the war ended, crowds continued to attend memorials in the hopes of finding friends and family they had lost.
It was a day of tributes and remembrance in New York City. In addition to City Hall, the Jewish partisans of Warsaw were also celebrated at a mass meeting at Carnegie Hall, and around the city (except war plants) by Jewish workers who stopped what they there doing for a two-minute silent prayer at 11 a.m. followed by eight minutes recalling the actions of those resisting the Nazis.[4]
[5]
[1] Mead, Vladka interview conducted by Andy Lanset, March 15, 1993.
[2] Kessner, Thomas, Fiorello H. La Guardia and the Making of Modern New York, McGraw-Hill, 1989, pg. 525.
[3] Murrow, Edward R., In Search of Light: The Broadcasts of Edward R. Murrow, 1938-1961, Knopf, 1967, pg. 56.
[4] "Jews Here Acclaim Heroes of Warsaw," The New York Times, April 20, 1944, pg. 10.
[5] This feature piece was originally broadcast on WNYC, April 19, 2001.