Web Extras
Recipe: Fresh Ricotta Balls with Roasted Grapes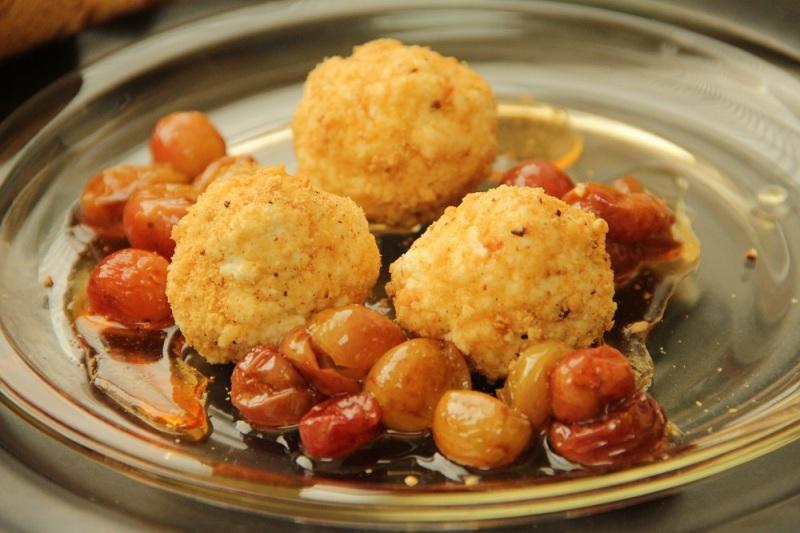 When you make Ricotta from scratch, all by yourself, you might want to showcase your creation in something other than a tray of lasagna. This simple and delicious recipe puts the spotlight on a simple handmade cheese that is head and shoulders better than the ubiquitous ricotta found in most grocery stores. As an appetizer or dessert course, this recipe is perfect!
First, make the Ricotta
1 gallon milk, any kind, store, farm whatever!
Acid- 2/3 lemon juice OR a few tablespoons vinegar (don't be too crazy and use balsamic) OR two tsp citric acid dissolved in 1/2 cup water.
Pour the milk in a stainless pot and put on the burner. Stir constantly and heat to 180-185. Turn off the heat and drizzle in the acid, stir gently while adding and watch the curd form. Keep adding acid until the watery portion (the whey) is clearish- yellowy-green. Stop stirring and let sit for 10 minutes or so (emphasis on "or so").  Line a colander with cheesecloth or a thin tea towel. (What the heck is a tea towel, you might ask. A thin, loosely woven towel designed to dry fine china dishes and cover the teapot while it steeps). The curd should be floating on top of the whey now, so take a ladle (perforated is best) and scoop the curds into the cloth. Let them drain and cool until the texture is kind of dry, but moist- try forming balls and if you can still squeeze out a bit of liquid, it is ready. Usually this takes about 20-30 minutes. Mix in about 1/4 tsp salt. Then roll the cheese into balls about 1 inch in diameter. Put in a dish and chill in the fridge for about an hour.
Next Roast the Grapes
Red or other seedless grapes
A sprinkle of raw sugar
Heat your oven to 450F. Pull grapes from stems and put in a shallow pan.  Sprinkle with sugar and pop in the oven. Let them roast for about 8 minutes and stir. Then continue roasting until they just start to pop. Stir one more time. When done, take the pan out and let them cool a bit.
The Rest of the Stuff
Nuts - almonds, filberts, or whatever
Cookie or something like graham crackers, vanilla wafers, gluten free gingersnaps.
finely ground cayenne pepper
cinnamon and/or nutmeg
Toast your nuts (I know) then combine all of these ingredients in a food processor (or a ziplocktype bag and then whack it with your rolling pin) and process until fine.
Serve the Yummy Balls!
Take the chilled balls and roll them in the pulverized nut mixture. Place a couple on a plate then put a large spoonful of grapes around the balls. Then drizzle the whole thing with maple syrup- not maple FLAVORED syrup. And serve. If you are one of those people who are into garnishes, put something green on the plate, like a mint sprig or other complementary herb.