Mother of Slain Teen Calls for Justice, Mayor Defends NYPD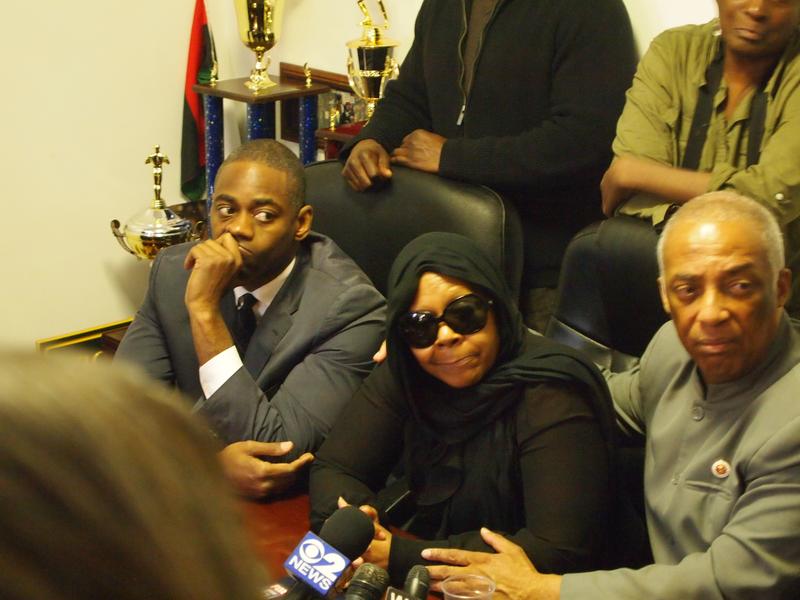 The mother of a 16-year-old boy shot and killed by police last weekend said her son was not part of a gang and never hurt anyone. 
Wearing a black scarf wrapped around her head and black sunglasses, Kimani Gray's mother, Carol Gray, told reporters Thursday that she doesn't condone the violence sparked by her son's death. She also denied that her son was carrying a gun, but later added that she didn't know saying, saying, "I wasn't there."
She said her son has never been convicted of crime and wouldn't hurt anyone.
"Gang affiliation? No. There's no initiation for Kimani. There's no pledge he has to take. There's no book that says he has to follow a certain law. None of that," Carol Gray said.
She sobbed as she described picking out the color for her son's coffin.
East Flatbush, Brooklyn has been rife with tension since two plainclothes officers shot and killed Kimani Gray after they say he pointed a gun at them.
But others in the community say the shooting is typical of a police department that targets black and Latino men and boys with tactics like stop-and-frisk.
At one vigil held for the slain teenager Monday night, police said some protesters trashed several stores and attacked a man with a wine bottle. A candlelight vigil Wednesday night ended with 46 arrests and a police officer suffered a gash to the face after an object was hurled at him.
Shawn Burgendy, a 29-year old who lives in East Flatbush, was at the vigil site Thursday morning to record video footage for Gray's funeral. He said he's not surprised by the community's reaction or its anger.
"Everyone's tired, this is not the first time it happened around here," Burgendy said. "Police brutality. Any time it happens, it doesn't have to be a shooting. It could be me walking to the store late at night and they stop me, harass me."
At another press conference, Mayor Bloomberg offered condolences to the Gray family. He says he's waiting a few days before he personally contacts the teen's parents. While condemning the violence in East Flatbush, Bloomberg also defended the NYPD. He says it's the most diverse and well trained police force in the nation.
"We've seen a historic decrease in the number of incidents where people discharge their weapons. It's really quite amazing when you look at how few times police discharge their weapons," Bloomberg said.
Not much is known about the officers who shot Gray, but the Associated Press reports that one was black and the other Latino. They've been placed on administrative duty.
Community leaders, meanwhile, blamed escalating tensions in East Flatbush on people from outside of the community.
"There are people, well intentioned as they may be, that are coming into the community and capitalizing on a terrible situation and making it worse," said Councilman Jumaane Williams, during another press conference. He district includes part of the area.
Williams declined to specify which groups he was referring to, but several media reports are pointing at members of the Occupy movement.
The Brooklyn District Attorney's office and the NYPD's Internal Affairs Bureau are investigating the shooting.
Mirela Iverac, Tom Lisi, Stephen Nessen and Arun Venugopal contributed reporting. With the Associated Press.