Flatbush Community Reels after Another Night of Violence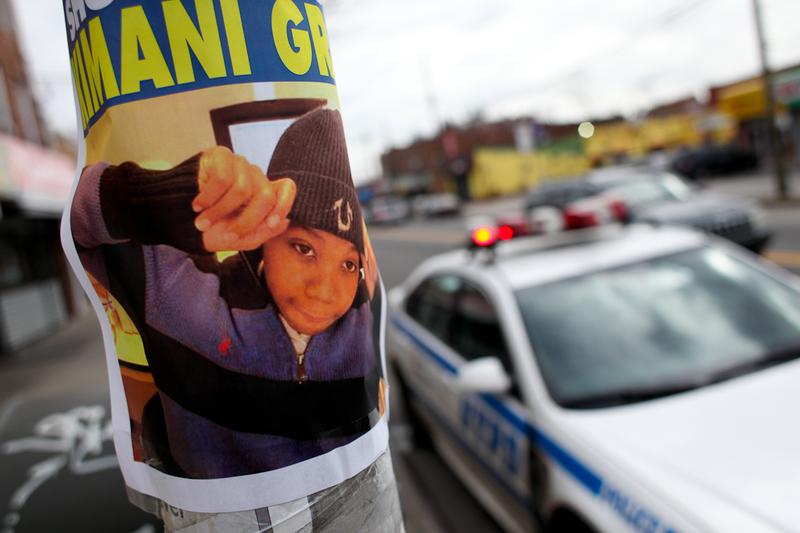 Dozens of tall burning candles, handmade posters and two wine bottles wrapped in red bandanas remain at a vigil in East Flatbush for a 16-year-old boy shot dead by police last Saturday. That corner on Church Avenue and 55th Street is where a Wednesday evening vigil turned violent, for the second time this week, resulting in 46 arrests.
Kimani "Kiki" Gray is the 16-year old who was shot by police Saturday night after he allegedly pointed a .38 caliber revolver at two plain clothed officers. The medical examiner revealed that Gray was shot seven times, in the front and back of his body, as well as his legs, ribs and arms.
More than 100 people attended a candlelight vigil Wednesday night, where anger was palpable as a group of young people heckled police officers in helmets and later marched down a street.
The vigil's organizers tried and failed to calm the young people, some of whom later threw bottles at police officers.
Dennis James, 45, lives in East Flatbush and stopped by the vigil site Thursday morning. He wishes the police had used more restraint, before opening fire. But he also said there needs to be more programs for the youth.
"The youth in this neighborhood have been long neglected. There's too much pretend to help, but it's never materialized. There's hostility, they're closing our schools they're taking away our jobs, so they're not giving the youth anything but the streets," James said.
Posters at the vigil for Kimani Gray on the corner of Church Avenue and 55th Street (WNYC/Stephen Nessen).
Police were stationed on various corners along Church Avenue on Thursday.  A poster has been taped on several telephone poles along the street with Gray's Facebook photo of him pulling his knit hat down with both hands and the words: "The Caribbean Guyana Institute for Democracy Demands An Independent Investigation into the Shooting of Kimani Gray."
Joyce Davoren, 43, is a jazz singer who was born and raised in East Flatbush. She agreed that the police aren't entirely to blame for the recent incidents.
"I think the children, when they come out, they have to be more cautious about who they're associating with and also with how they respond to officers, that may help," she said.
But Nadine, who declined to give her last name, said the police target the kids in her neighborhood. She lives near Gray's family and has a son who was friends with the teen.
"Its outrageous that they're attacking babies, 16 and 15 year old, babies, these are our children," she said, with tears in her eyes.
Shawn Burgendy, 29, has known Gray since he was a baby.  He said he's not surprised the community is reacting with such anger.
"Everyone's tired, this is not the first time it happened," he said. "Police brutality. It happens, it don't have to be a shooting, it can be me walking to the store late at night, they stop me harass me, go through my pants, its crazy out here."
"Kiki" Kimani Gray's nickname, written in wax at his vigil on Church Avenue and 55th Streets in East Flatbush, Brooklyn (WNYC/Stephen Nessen).