Fake Website Mocks Christine Quinn's Paid Sick Leave Stance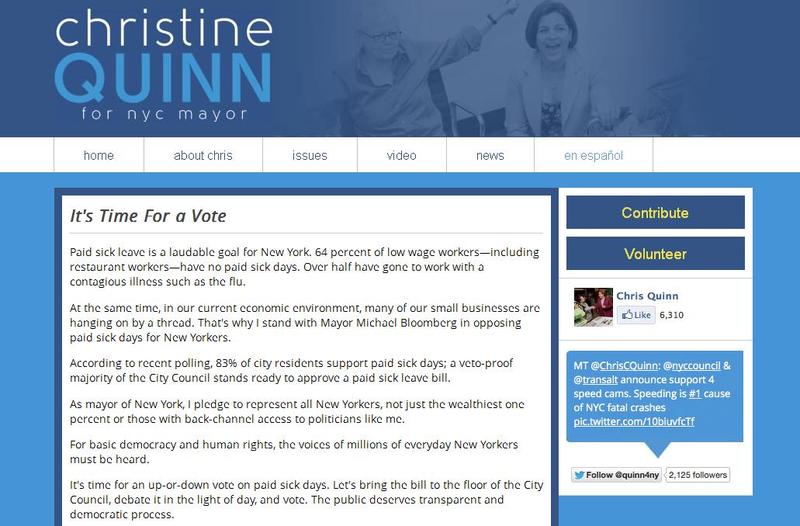 Enter internet trickery into the 2013 mayoral campaign. A fake website is mocking Council Speaker Christine Quinn's opposition to mandatory paid sick leave. The website, which seamlessly blends with her official site, contains no clue to its provenance. But it does crib some of its language from a site for a Public Advocate candidate — who denies any involvement in the parody site.
"I stand with Mayor Michael Bloomberg in opposing paid sick days for New Yorkers," read a fake statement that went out in an email and online at quinnfornewyork.org, a near replication of Quinn's official website quinnfornewyork.com. It continued, "83% of city residents support paid sick days; a veto-proof majority of the City Council stands ready to approve a paid sick leave bill."
Quinn and her campaign were quick to respond. "This is not the campaign website. This was not a campaign email. The Speaker's position has not changed," Quinn campaign spokesman Mike Morey said. The bill would require employers with more than five employees to provide at least five sick days a year. A public hearing on the paid sick leave is scheduled for next Friday.
Quinn has maintained that she supports the idea paid sick leave legislation, but that it is not good economic policy right now.   That position has come under attack from one of her opponents, Public Advocate Bill de Blasio, and the Working Families Party.
The de Blasio campaign, denied any involvement in the fake site, but spokesman Dan Levitan was quick to exploit it. "Consider us had. We thought after 3 long years of blocking paid sick days, the million New Yorkers who need them were finally going to get a break," Levitan emailed in a statement to reporters. "Whoever is behind this may have an odd sense of humor, but they do have better judgment for what's right for New Yorkers than Speaker Quinn."
Some of the language on the fake site was lifted nearly word for word from the website of Public Advocate candidate Reshma Saujani. The Saujani campaign was not aware of the similar language until WNYC called, and a campaign spokeswoman said Saujani was "absolutely" not involved in the spoof.
"So many of New York's working families desperately need paid sick days, but tactics like this only make a mockery of the passionate and responsible advocacy done by myself and others," Saujani said in an emailed statement. "Moreover, as someone with deep roots in the tech community, I know that hacking and identity theft are no laughing matter and have no place in honest political debate."