Residents Say Simmering Tensions Led to Violence After Vigil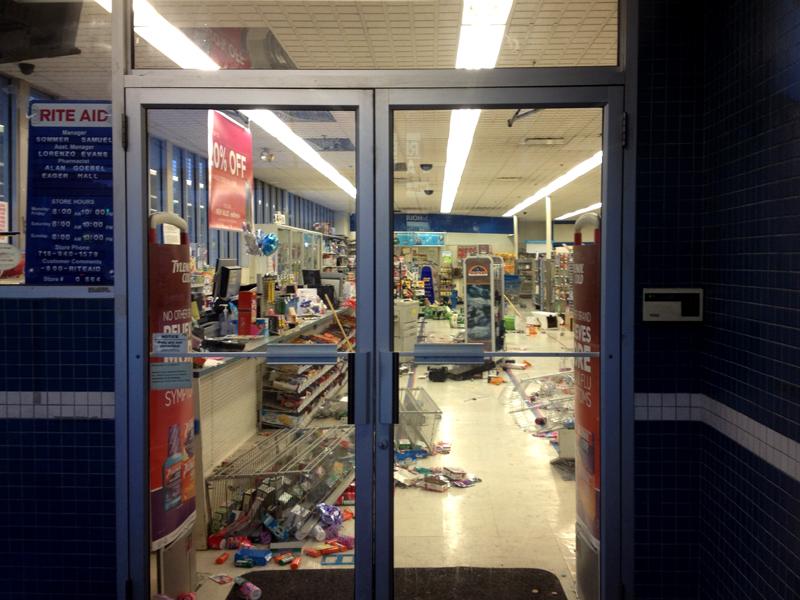 Police Commissioner Ray Kelly said the violence that erupted last night after a vigil for a teen shot by police was a one-time incident — but residents say it was fueled by long-simmering tensions between the police and the community.
Dozens of protesters smashed bodega fruit stands and trashed a Rite Aid pharmacy, where they allegedly assaulted employees and customers following a vigil for 16-year-old Kimani Gray, who was gunned down by police after pointing a .38 caliber at them.
"People took it upon themselves to go in, trash the store, try to take the cash register in some way, shape or form," Kelly said following a City Council hearing on Tuesday. "I don't think that has, or should have, a relationship to a peaceful demonstration."
One person was arrested for disorderly conduct.
Kelly said the incident that resulted was not indicative of a larger sentiment in the community. But Council member Jumaane Williams, a frequent critic of the NYPD, said the anger expressed isn't only about the most recent shooting.
"We're not going to pretend that yesterday was just one incident," Williams said during a heated exchange with the commissioner. "It is about how you and the NYPD and the mayor have reacted to these communities. It's about years of not being heard."
He added: "That anger that we saw last night, that I was witness to, is not from one police shooting."
Meanwhile, police officers on Tuesday were stationed on several corners along Church Avenue.
Standing near the site of the vigil, Jermaine Frank, 29, said the relationship between the police and the community is frayed. "It's been on edge for awhile, now it's even more on edge," Frank said.
Frank, who is black, said he has been pulled over so many times in his car that he prefers to walk or take public transportation.
"They harass us a lot, it's just part of life," he said. "You learn. I've learned. I walk now. I don't drive."
Johnny Anderson lives near Church Avenue where police stood in riot helmets with white handcuffs Tuesday morning.  Anderson said the relationship between police and residents has been bad for some time.
"There's been many incidents of past police attacks on people or people attacking the police, so it's not really a good relationship between people and the police, but I hope it works out in the future," he said.
Another vigil for Kimani is planned for Tuesday evening.
Brigid Bergin contributed reporting