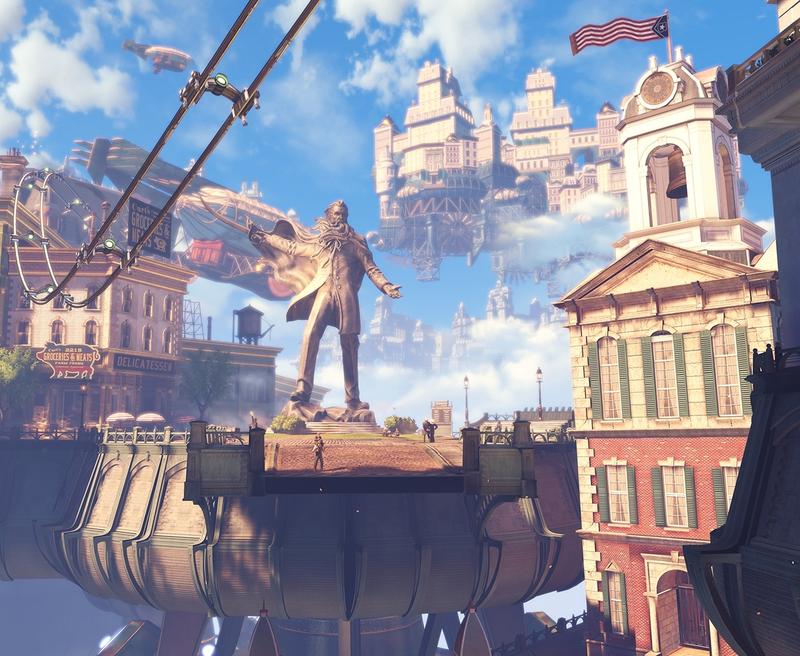 While the most visible evolution in video games has been in the realm of graphics, resolution, and processing power, another kind of progress has been taking place on the level of narrative. Ken Levine, the creative director of Irrational Games, has been in the forefront of that development.
Levine tried his hand at theater and screenwriting before, in the 1990s, he found his calling in gaming. In 2007, Irrational Games released Levine's BioShock, a game that turned the first-person shooter format (familiar from games like Grand Theft Auto) into something like art. With a rich, complex story, philosophical provocations, immaculately detailed settings, and skillful voice acting, the game felt more like going to the cinema — or being inside it. BioShock was a critical and commercial success, and ended up in a Smithsonian museum exhibition and on an episode of The Simpsons.
BioShock Infinite, to be released this month, has been highly anticipated. It's not a sequel to the earlier game. While both are set in dystopian alternate histories, they go (literally) in opposite directions. The first game was set in Rapture, an underwater city, and the new title goes to Columbia, a city in the sky with many similarities to America in the early years of the last century.
Ken Levine gave Kurt Andersen a sneak peek at the gorgeously realized world. Peek being the operative word, because while Kurt enjoyed the gameplay, his favorites moments took place when he stopped to enjoy the scenery. Levine, though, is modest about how far video games have come since the birth of the medium in the 1970s. "It's not Birth of a Nation," he says "but it's not Casablanca, either. We're somewhere in the middle."
Video: The opening scenes of BioShock Infinite
(Warning: May contain content inappropriate for children. In-game footage contains spoilers.)