Note to Self
Creating Startups on a 72-Hour Bus Trip from NYC to Austin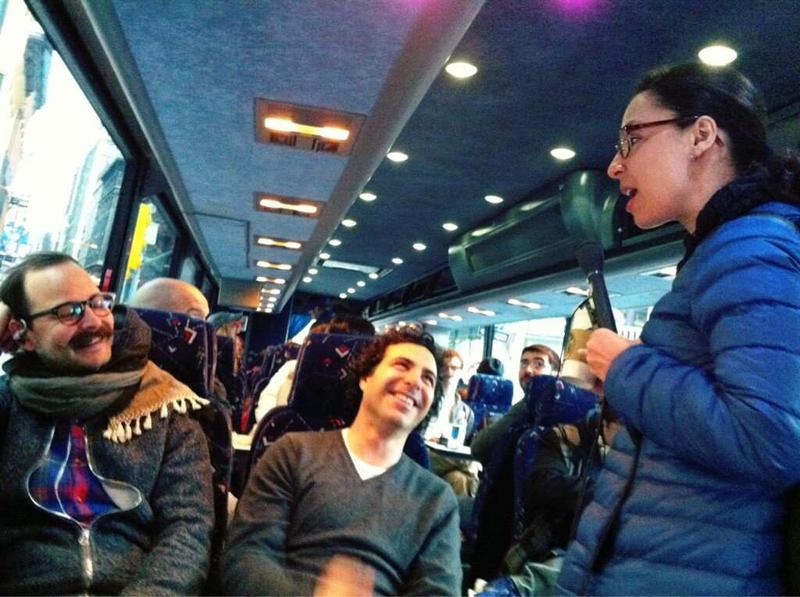 Jon Gottfried is a developer evangelist at cloud communications company twilio and co-founder of Hacker Union. He was also the the conductor of the New York City Startup Bus, one of eight buses filled with coders, developers and designers teaming up to create startups during the ride to the SXSW Interactive festival in Austin, Texas.
Once at the festival, the startups from the different buses competed with one another. This year's winner was Career Mob, a job site for military personnel and veterans. Valerie Lisyansky, a user interface and user experience designer, is one of the project's co-founders.
Manoush spoke to Gottfried and Lisyansky about whether the Startup Bus is just a fun exercise or a way to start a legitimate business. She also asked how a motley band of hackers, designers and business development folks go about building companies while on the road. 
Gottfried on Startup Bus: "We had 29 'buspreneurs' and we got on the bus very early in the morning in New York and immediately people started pitching ideas and forming teams. And over the course of the following four days, they built those teams out, built products and built fledgling startups that they then demo'ed to a panel of judges."
Gottfried on the Winner: "We actually had the winner from New York this year building an awesome startup called Career Mob that was actually a combination of two ideas from different people on the bus."
Lisyansky on Career Mob: "Our company is Career Mob, and it helps veterans find jobs...not just veterans, I'm sorry, military personnel as well. One of the issues is that the job names are so odd, and they don't translate well to civilian skills, so we have a system that helps them translate their work experience into jobs they can do in the civilian workforce and also hooks them up with mentors to help them with that transition."
Lisyansky on Why Career Mob Won: "We have a working prototype. We have all the data for it. We have every page designed, and we were able to present that....So, sure they liked the idea. They liked that it could be a business, where you can also monetize it in these different ways, but also, it was built. It existed. It wasn't just a PowerPoint slide."
Gottfried on the Startup Bus Atmosphere: "It's a competition, but it's a very friendly competition...We're building these companies and building our products, but really, we're also building a really strong community."
Gottfried on the Entrepreneurial Spirit: "After our competition was over in San Antonio, people got on a shuttle bus from San Antonio to Austin, and instead of resting after four days with no sleep, they decided to found a new company during that two-hour shuttle ride. It's sort of a joke, but it's a very serious joke. They have an LLC now. It's called Drunk Spotting."