The Long, Legal and Arduous Wait for a Green Card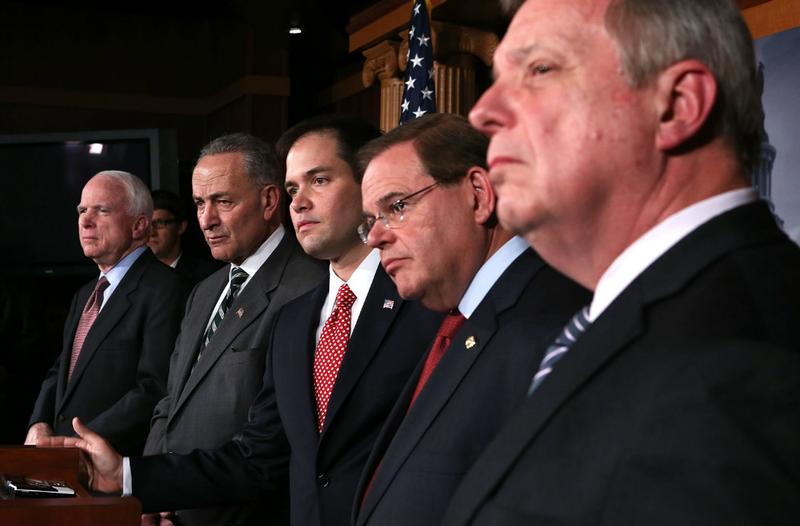 On a recent morning, Celis Wignall, 49, picked up the phone in her apartment in Paterson, N.J. and made a call. A smile instantaneously appeared on her face as it went through.
"You're working on the road today?" she asked.

Responding on the other side of the line, from Jamaica, was her daughter, Elizabeth.

It was the first call of the day, which usually takes place in the morning. Wignall had just gotten out of her pajamas. The two would talk again in the afternoon, because next to seeing each other once a year, when Wignall goes to Jamaica, that is the only way they can keep in touch.

The mother and daughter have been separated for almost 15 years. Wignall came to the U.S. in 1999, when her daughter was a teenager. Elizabeth, who asked us to use her middle name for fear of jeopardizing her application, is 30 now.

Eight Republican and Democratic Senators negotiating the upcoming comprehensive immigration reform have come to an agreement that illegal immigrants would get work permits, but have said they will need to wait to get green cards. What they're trying to emphasize is that they're keeping people like Wignall in mind.

"Hundreds of people come to our office every year whose relatives from all around Latin America and the world are waiting in line to legally come here," said Senator Marco Rubio. "We have to be fair to them."

Senator Rubio, like other members of the gang of eight senators, as well as President Obama, have time after time said illegal immigrants will get a chance to get green cards only after those who have already applied and are waiting abroad to receive their green cards. A Senate staffer familiar with the negotiations said it could take 11 years to get to that point.

Elizabeth is just one of over 4 million people already waiting in lines, according to the numbers from the State Department, which are not precise. Some are sons and daughters of U.S. citizens like her; others are spouses of green card holders. And then there are those who are sponsored by employers for green cards. All of them have different wait times: from a few to over 20 years.

But immigration advocates, like Melissa Chua, an attorney at the New York Legal Assistance Group, say this shouldn't mean immigrants who are here illegally should have to wait until all lines are cleared.

"People who are living here undocumented already have significant ties and are maybe even paying taxes already so making significant contributions to the community they live in here in the United States," she said.
Politicians have turned to saying illegal immigrants will have to go to the back of the line. Behind the catchphrase is their desire to emphasize immigrants who are here illegally won't be able to cut in front of those who have played by the rules - like Wignall.

After spending two years in the U.S., she got her green card through a provision of the federal law for victims of domestic abuse. Her daughter qualified for a green card under the same application. They came close to being reunited. But by 2005, when Elizabeth went for an interview in the U.S. embassy in Kingston, she turned 21 and had aged out.

Wignall went on to become a U.S. citizen in 2006. Elizabeth is now eligible for a green card as an adult, unmarried child of a U.S. citizen, and has been waiting in Jamaica to join her mother. Wignall described these years as difficult.

"Even if I finish talking to her on the phone it doesn't matter how much I say to her I love you, she loves me, you get off the phone, your stomach don't feel the same," she said. "Because you know… She can't come live with you as a family."

Elizabeth has also made sacrifices. She said she has one foot in Jamaica, the other continuously waiting to step on U.S. ground.

"I don't think about marriage," she said, in a phone interview. "I don't think about kids and other long-term commitment…. I don't want to jeopardize the fact that she's filed in my name."

The bipartisan framework for immigration reform clearly states that no one who has violated America's immigration laws will receive preferential treatments ahead of those who have followed the letter of the law.

Meanwhile, Wignall says she goes to sleep hoping that her daughter will be able to join her sometime soon. Visa bulletins posted online give them some comfort that Elizabeth's application might be approved this year.

"Every night I go to bed I dream, and sometimes I have nightmares, just thinking, praying, hoping to God she will come this time," she said.