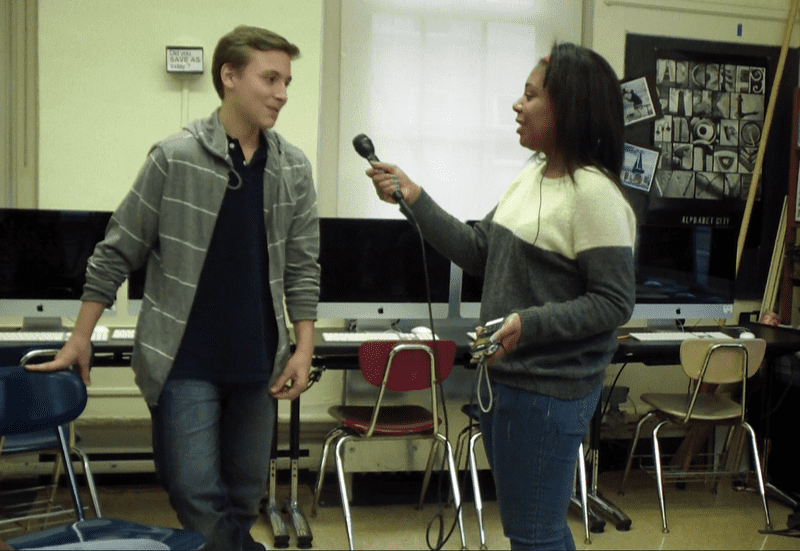 Radio Rookies' spring multimedia storytelling workshop launched just a few short weeks ago, and students from two high schools in lower Manhattan made their way to the downtown WNYC station for the first meeting.
The first day was a packed with a station tour, getting to know each other, and exercises led by Facing History and Ourselves, an organization that will be partnering with Radio Rookies throughout the workshop. At the end of the day, as apprehension waned and ideas flowed more readily, there was a free-form brainstorming session — the first step in the long process of selecting a story idea and whittling it down to the right level of specificity.
In order to spark curiosity and deepen the brainstorming process, the second day of the workshop was spent at the Tenement Museum, where students learned about the history of immigrants in the Lower East Side. Through an interactive tour of a tenement building on Orchard Street, students gained insight into how various immigrant groups impacted the economic and political landscape of the neighborhood, and how this trend continues today. Because students will be documenting their own connections to the neighborhood, the tour offered valuable insight into a layer of local history so often hidden from view.
In teams of 3-5, students will spend the next three months examining their chosen topics in more detail: after conducting interviews with friends, family, and strangers on the street, they'll use their audio recordings, videos and photographs to assemble and edit a fully narrated multimedia piece. Initial ideas for topics were varied, ranging from bullying to obsession with sneakers. The following week during workshop, this time held at the individual schools, discussion focused on honing ideas and forming groups with similar interests. Groups also prepared for pitch sessions, during which they pitched their final story ideas to Radio Rookies producers.
As story ideas solidified, students began to explore the recording equipment under the guidance of radio and video producers. After a brief lesson on recording techniques and etiquette, students hit the streets of the neighborhood to get their first taste of interviewing strangers. Stopping a stranger on the street can be nerve-wracking, and students were occasionally refused. However, their confidence grew as they encountered most people's willingness to engage in honest and often powerful dialogue. With this experience under their belts, several students were inspired to take home the recording equipment to collect further interviews in their own neighborhoods.
So what comes next? In coming sessions, the student reporters will delve deeper into their topics, conducting more interviews and selecting appropriate clips as each story's narrative arc takes form. Further along in the process, students will share the task of writing and editing original narration, and recording it at a professional recording studio at the WNYC station.
One Rookie, Alicia, explained that honing her writing skills is one of the main reasons she enrolled in the workshop. A spoken word poet, she is excited to improve her writing, and hopes that doing so will help her academically. When it comes to the story, she explains, "writing is the thing that brings it together." For now, though, it's all about collecting raw material and fine-tuning each story's scope — and that's more than enough to keep a Rookie busy!
Slideshow: Radio Rookie's Lower Manhattan Multimedia Workshop Begins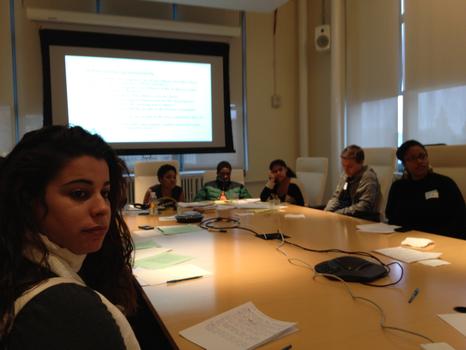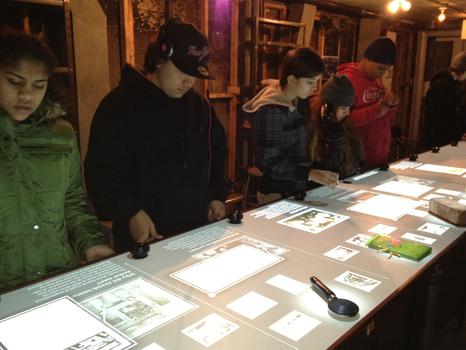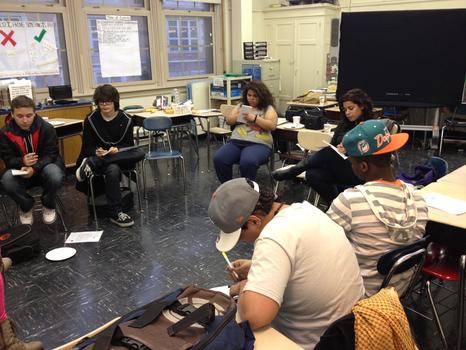 of