Winter Storm Loses Steam, but Still Threatens Coast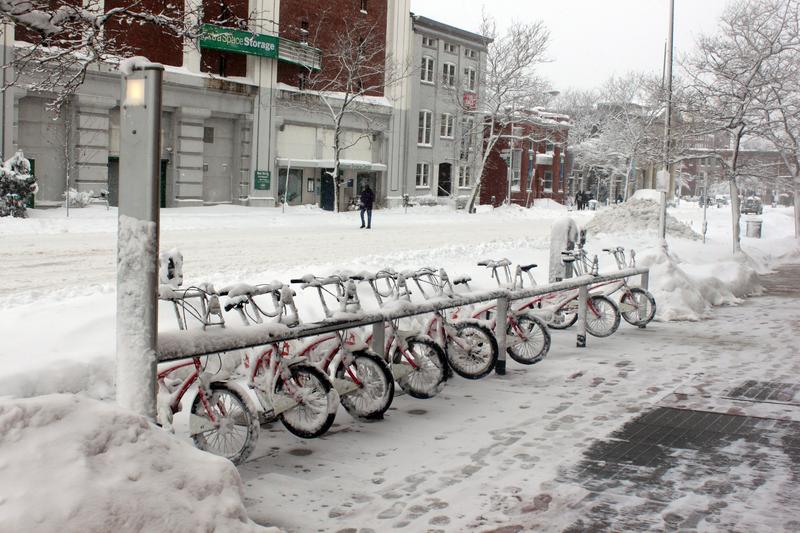 The nor'easter, which dumped nearly a foot of snow on Chicago and prompted voluntary evacuations in some Sandy-damaged communities in New York and New Jersey, could still cause flooding in low lying areas in the region as it moves into New England.
The storm is still expected to bring a wintry mix of rain, wind and snow to the area – about an inch in New York City. As much as 3 inches could fall by Friday morning, while parts of Northern New Jersey can see as much as 4 inches by tomorrow.
In Connecticut, the storm is expected to bring as much as 7 inches of snow. The shoreline is under a coastal flood advisory, with high tides expected to be 2 to 3 feet above normal, according to the National Weather Service.
Pounding surf broke through a temporary dune in the Jersey shore town of Mantoloking and sent floodwaters onto the highway. Low-lying areas along the New Jersey coastline reported rising waters by Wednesday afternoon. A flood advisory remains in effect until 9 a.m. Friday.
"We've gotten several reports of coastal flooding along our entire coastline. Winds have gusted over 50 mph in some spots, even a few wind gusts over 60 mph as well," said National Weather Service meteorologist Mitchell Gaines. "So our coastal communities have had a rough day."
In New Jersey, Long Beach Township officials asked residents of the Holgate and Brant Beach neighborhoods to evacuate. Brick, Toms River, Manasquan and Brielle have also asked for voluntary evacuations from their towns.
The storm was expected to bring heavy rain that was to turn to snow around 8 p.m. Wednesday in the New York metro area, but the precipitation failed to materialize overnight.
New York City Sanitation Commissioner John Doherty said Wednesday snow plows and salt spreaders were standing by if needed.
"That's when we'll probably have a full force ready on the salt spreaders to address the roadways at that time," Doherty said.
On Long Island, communities recovering from Sandy could see more flooding.
Joey Picca, also a meteorologist with the National Weather Service, said strong winds could bring water levels about three to four feet above where they would be normally.
"With the breaking waves on top of it … New York City could face some issues with coastal flooding," Picca said.
Picca said there might be some isolated pockets with power outage issues, but widespread damage to tree limbs and power lines is not expected.
Tom Lisi and the Associated Press contributed reporting