Lhota Defends Giuliani from 'Jerk' Comment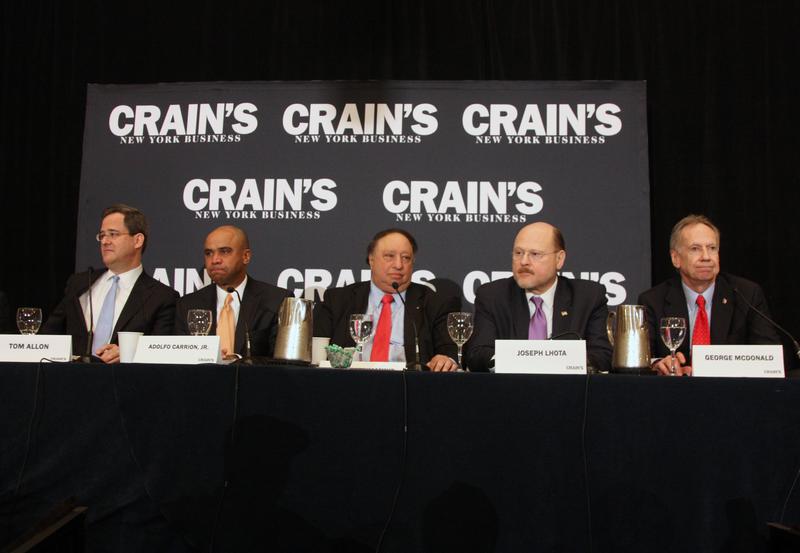 Republican mayoral candidate Joseph Lhota embraced his former boss, Mayor Rudy Giuliani, at a Republican-only mayoral debate hosted by Crain's New York Business on Wednesday after moderator and columnist Greg David called 2001-era Giuliani a "jerk."
"I was trying to think of what word to describe Rudy Giuliani that year, but jerk comes to mind," said David as part of a question to the five candidates about why they considered themselves legitimate Republicans, and in the case of Lhota, what kind of Republican would they be.
The comment stunned both the audience and the candidates. Adolfo Carrion, the first to tackle the question after David's barb, began simply by saying, "whoah."
When it was Lhota's turn, the former MTA chair and deputy mayor in the Giuliani administration scolded David.
"For you to disparage the 107th Mayor of the City of New York with the words you use," Lhota said to applause. He said the Giuliani administration kicked off a period of transformation in the city where crime went down, jobs went up and, "the city became optimistic again."
The Bloomberg administration's 12-year tenure was a continuation of that transformation, according to Lhota, "but don't ever be lulled into thinking that that transformation is permanent and there forever."
As the moderator, David had sharp words for all the candidates on the question of whether they were legitimate Republican mayoral candidates.
"After all, many of you were Democrats until an instant ago. One of you, Mr. Carrion, still isn't a Republican," said David. He said supermarket owner John Catsimatidis is funding an effort to keep Wal-Mart out of the city to protect his Gristedes grocery chain. "Is that a Republican thing to do?"