Note to Self
Redesigning NYC's 11,412 Payphones for the Digital Age
The 11 semifinalists in the Bloomberg administration's Reinvent Payphones Design Challenge imagined payphone kiosks with air pollution sensors, solar-powered cell phone chargers and screens controlled by hand gestures and voice commands. 
The competition wrapped up Tuesday night when a panel of judges from New York City's tech community heard project demos and chose five winners. 
"I'm floored," judge Andrew McLaughlin tweeted afterward. "A raft of great designs and imaginative reinventions."
Mayor Bloomberg challenged Silicon Alley to redesign New York City's 11,412 payphones in a video message at the New York Tech Meetup in December. Since then, 126 submissions poured in.
The five winners get kudos but no automatic contracts. The city will use their designs as benchmarks when evaluating submissions for an official RFP to be announced soon.   
"We thought the best way to get the most energy and best solutions is to approach the folks who are going to use it," said Rahul Merchant, commissioner of the New York City Department of Information Technology and Telecommunications.
Merchant praised the semifinalists and said there's no way agency employees working for the city would have had the time, energy or imagination necessary to reinvent the payphone for the 21st century.  
The city has been taking baby steps toward a payphone overhaul for years. In 2003, it began turning selected payphone kiosks into WiFi hotspots.
In November, it replaced phones in 10 kiosks in Union Square with 32-inch interactive touchscreens displaying maps, public service announcements and entertainment listings. 
Many of the designs on display Tuesday night pushed the ball forward even further.
A design called "NYFi" (a pun on WiFi) from the architecture firm Sage and Coombe put the Metrocard machine, payphone, muni meter, emergency call box and bicycle share station into a sleek kiosk with a smaller footprint than your typical payphone. 
Another prototype called "Beacon" from Frog Design features LED matrix screens, speakers, lighting and solar cells.
"We've built in an array of microphones and speakers, so it can very intelligently drown out ambient noise," said Jonas Damon, creative director at Frog Design.
Its digital advertising panels can be taken over by the city during emergencies to display flood zone information, for example.
Payphones were a crucial link for New Yorkers during Sandy and many of the designers mentioned the storm in their three-minute presentations and highlighted how their kiosks could be used for emergency response. 
New York City's franchise contracts for New York's pay phones expire in October 2014 and the city hopes to roll out a new and improved payphone kiosk by that date.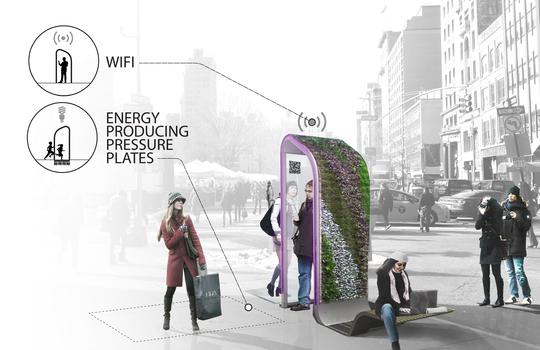 of