Catholic Conversations: Nuns on the Papal Transition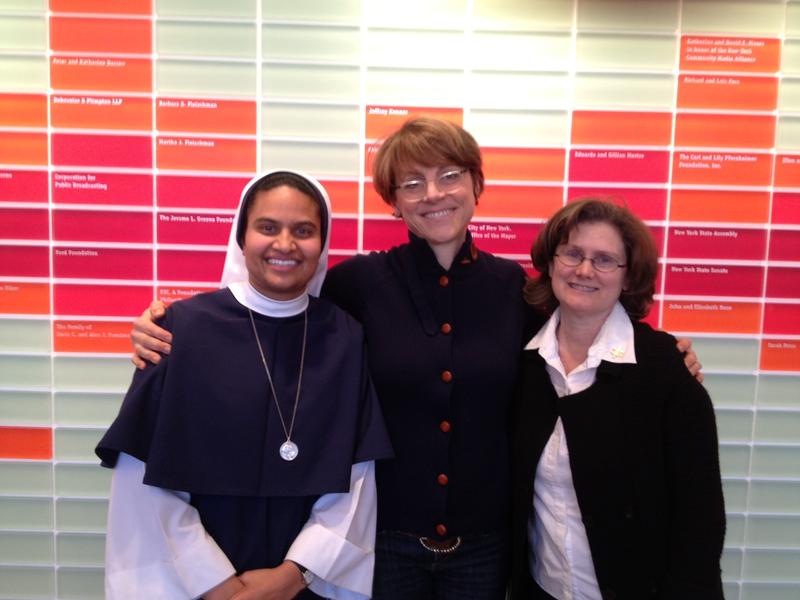 As the Catholic Church begins the process of selecting its next leader, WNYC's Amy Eddings is hosting conversations with Catholics to find out what anxieties, concerns and hopes they have during this time of transition.  We're hearing this week from two nuns.
Sr. Susan Wilcox, 54, is a member of the Sisters of St. Joseph/Brentwood. The order, founded in France in 1650, "seeks to promote justice, to live lives of non-violence and to respond to the needs of our time." She entered religious life in 1999, at the age of 40. She currently teaches at St. Joseph's College in Clinton Hill, Brooklyn.
"There is a sense that women in Church are feeling that there's no place for them, that they are second class status in the Church. It's a structural problem that needs to be addressed. But ultimately, whatever decisions are made within the structure of the Church, it doesn't relieve any of us of our own baptismal call to live the Gospel of Jesus. When things get big, that's what we fall back on. It's our own responsibility."
Sr. John Mary, 38, is a Sister of Life. The order is a relatively new one, founded in 1991 by the late Cardinal John O'Connor, who headed the New York Archdiocese for 16 years until his death in 2000. Members of the order take a vow to "protect and enhance the sacredness of life." Sr. John Mary works at the order's Visitation Mission, which provides support and services to pregnant women.
"I think the deepest desires on the hearts of young people and young women is to know that they're loved, to have a sense of their dignity and worth.  Women all the time define themselves in the culture by their career, by their choices, by their image, by their achievements.  I think there's a radical message in the Christian faith [...] that a person's worth is infinite.  You are unique and unrepeatable in the eyes of God."
What can the next Pope do to inspire women in the Church?  Leave us your thoughts below.
And tune in to Catholic Conversations on Saturdays during Lent and the papal conclave to hear what others are saying.
Catholic Conversations airs Saturday mornings during Weekend Edition Saturday from 8:00 AM - 10:00 AM on 93.9FM and from 8:00 AM - 11:00 AM on AM820.