Adolfo Carrion Launches Mayoral Campaign in the Bronx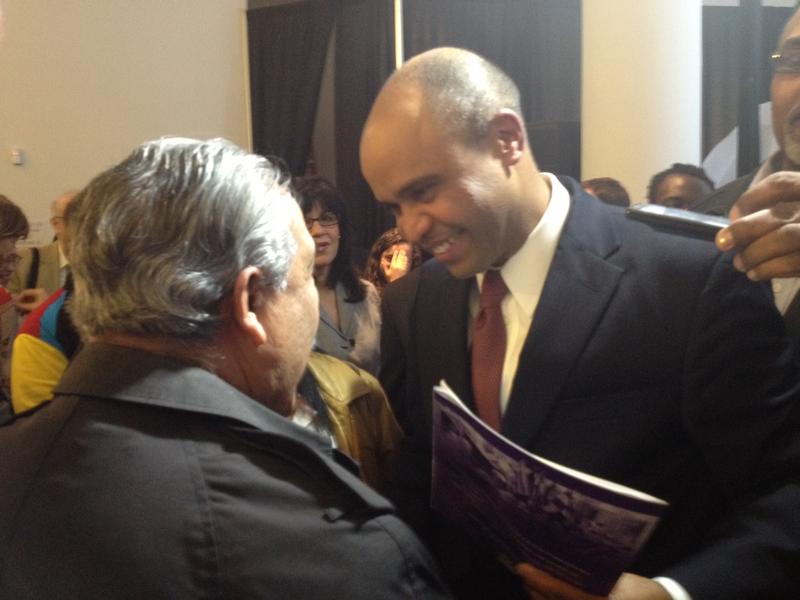 A week after he secured ballot access on the Independence Party line, former Bronx Borough President Adolfo Carrion officially announced he's running for mayor. In the crowded field of candidates, Carrion is casting himself as a business-friendly populist.
"Together with New Yorkers of all political stripes at my side, and with New Yorkers of all faiths and all backgrounds at my side, we will lay out a vision for the New York we all need, the New York we all want, and the New York we all deserve," he said. 
Hundreds of supporters packed into the Bronx Museum of Art to cheer him on. Carrion's father, a prominent Assembly of God minister who immigrated from Puerto Rico, led the opening prayer, and Carrion's 23 year-old daughter Raquel introduced him.
Carrion recounted his family's history in a speech that focused largely on New York's cultural diversity. But too many New Yorkers, he said, have given up on the political process. 
"Es nuestra ciudad! Es nuestra ciudad! Es nuestra ciudad! This is your city!" he shouted from the stage.
He called for an end to what he deemed "the politics of paralysis and division," along with lower taxes and regulations for small businesses, scaled up school reform, and expanded tech and tourism jobs.
"If the people select me as their leader, they will elect a mayor who represents the taxpayers and not the excessive demands of some of, some of the public sector unions," Carrion said, pausing for emphasis. "That represents the children and not the bureaucrats of the education complex, that represents the wallets of ordinary people and not the coffers of utilities and special interests."
Carrion led the White House Office of Urban Affairs during the first year of the Obama administration. He left the Democratic party last year and will be on the November ballot on the Independence Party line. He is also pursuing a run in the Republican primary. 
"I continue to argue that I'm the best investment that the Republicans can make in a fusion candidate that demonstrates independence and demonstrates an ability to bring a coalition of New Yorkers together," Carrion told reporters after leaving the stage.