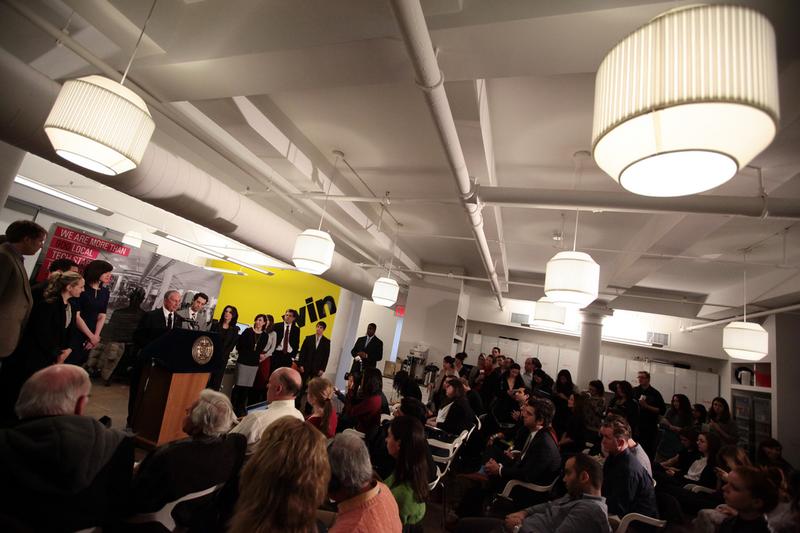 In his State of the City address earlier this month, Mayor Michael Bloomberg referred to the tech sector ten times while leaving out Wall Street altogether.
Then, days later, he announced a new citywide ad campaign promoting the 3,000 job openings in the city's fast-growing, start-up economy.
"The mayor gets it," said Jon Steinberg, president of the digital media company Buzzfeed and host for the press conference announcing the city's latest tech PR push. "We have an animated gif on the site showing just how much the mayor gets it."
Tech "Hearts" Bloomberg
The tech community gives Mayor Bloomberg a lot of the credit for the industry's growth in New York City.
Now, with more tech employment and definite buzz, some in the industry are looking to leverage their new status to try to push for who they want to come after Bloomberg.  But it's not clear how much of return a tech investment will have at the polls. 
Getting Out the (Tech) Vote, Hopefully
When it comes to making a play for attention during the campaign season, the first thing to show is the ability to turn out numbers.
That, New York's tech community has down.
Once a month, hundreds of tech-enthusiasts gather to check out product demos at the regularly sold-out New York Tech Meetup. It's part show-and-tell, part networking. This year, it's also a potential political lobby.
"We recently announced a goal of ours to help elevate a policy conversation in the city as we approach the 2013 citywide elections," executive director Jessica Lawrence told the February meeting.
The group's email membership has doubled in the last year and a half, to 30,000 people.
The group's Chairman, Andrew Rasiej, says politicians should pay attention.
"Unions are still important, political clubs are important, the endorsements of the NY Times and the major newspapers are important, but a hyper-connected citizenry of New York is also important and hopefully the mayoral candidates will recognize that, and if they don't, we'll make sure they do," Rasiej told WNYC. "There's a new kind of currency that isn't based on money or on traditional political influence, but based on currency of networks."
When the tech community motivated, it can win. When Congress was considering anti-piracy legislation last year, the community deemed the potential laws hostile to tech and turned out thousands to protest them in New York.  The bills eventually died.
The mayor's race, however, hasn't caught on in the same way. Less than 200 people have voted on the Tech Meetup's online policy agenda. That list includes proposals such as citywide broadband, immigration reform, and more access to city data.
Technology entrepreneur Art Chang worries the agenda is not coherent enough.
"Some of the candidates will find some frustration in trying to pin down who these folks are that they're trying to engage with," said Chang, who sits on the city's Campaign Finance Board.
In Silicon Valley, it took decades for tech interests to throw their weight around in local politics.  In New York, Chang said it's not clear what campaigns will get from aligning themselves with the tech industry because there aren't established lobbying groups.  "There are some spokespeople but it's not clear how much they represent a voting block that can help their prospects," he said.
Donating, Getting Attention
Still, the industry is definitely commanding an audience with politicians.
"Suddenly there's much more attention on the nerds," said Scott Anderson.  He co-founded the tech consulting firm Control Group 12 years ago, but he says this last year has been very different.
"I'm going to more business breakfasts than I've ever gone to in my life," he said. "That's been fun though, you know, figuring out that my voice in particular and the tech community in general are welcome at the table now, whereas you used to think that's where your father sits."
It's helped him hone some pragmatic proposals, like updating city procurement rules so small, local tech firms have a better shot at city contracts. And he's paying attention to candidates.
"This past year I went to my first mayoral fundraiser," he said.
It was for Christine Quinn. Of the mayoral candidates, she's raised the most from employees of city tech, but it's not a lot overall. Tech workers have given just over $138,000 to non-council candidates this year. That's dwarfed by donations from real estate, finance and law.
Of course, until recently, there haven't been incentives for tech to do a lot – because they already have an ardent advocate in the mayor's office.
That was on full display as Bloomberg was welcomed as a kindred spirit while touring the midtown offices of Buzzfeed where giant buttons reading "LOL" and "omg" dot bright yellow walls. The mayor's not just a political booster, Buzzfeed's Steinberg said, but a tech pioneer.
"He understands technology and understands what it takes to build a company," he said. "You know, he's one of the few mayors who's built a technology company of that scale."
But with Bloomberg leaving, is Steinberg getting involved to make sure the next mayor is as tech-friendly?
"I spend so much time thinking about our business that I don't spend a lot of time thinking about that, to be honest with you," Steinberg said.    
That's the downside of relying on a booming industry to build a political movement:  without a candidate to galvanize them, they could just be too busy.