Carrion Endorsement Sets Up Possible 3-Way Mayoral Race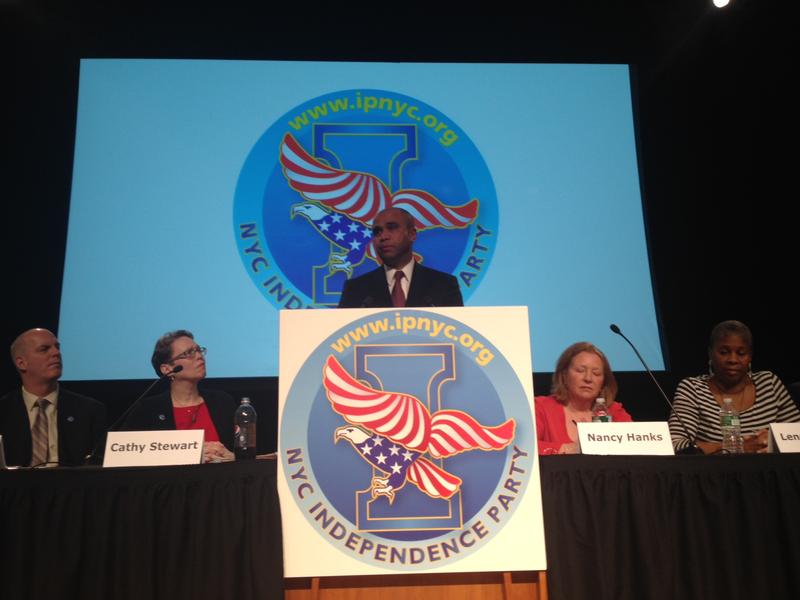 Adolfo Carrion, a former Obama appointee and Bronx Borough president, secured a spot on November's mayoral ballot, setting up a potential three-way race.
Carrion used to be a Democrat, is now registered independent, and wants to run in the Republican primary for mayor. 
But no matter how that primary goes, Carrion will be on the general election ballot on the Independence Party line. He was unanimously endorsed by the party's executive committee. 66 people voted. 
As he accepted the nomination, he focused on low voter turnout in citywide elections in his first major speech of the campaign. He called the 28 percent turnout in the 2009 mayoral election a crisis.
"I'm interested in waking up that sleeping giant. We know who they are, and we know they care about the future of the city," Carrion said. "They are unfortunately and clearly making a statement that they are not satisfied when their choices. Well today, Independence Party, you gave New Yorkers a choice." 
Carrion moved from New York to Washington to lead President Obama's Urban Affairs Office in 2009. He returned to the area to become regional director of Housing and Urban Development Office for New York and New Jersey in 2010, and left that post last year as he weighed a citywide campaign. He calls himself a social progressive and fiscal conservative. He told his story's family of moving from poverty in Puerto Rico to middle class life in the Bronx. 
"This city has to continue to be the city of opportunity, and the way we're going to do it is with independent leadership," he said. 
He sounded like a reform candidate, a change from the status quo, but the party endorsing him has been firmly in the corner of the mayor who's run the city for the last twelve years.
The Independence Party, the city's largest third party, endorsed Michael Bloomberg in the last three elections. 
"We did partner with Mike for three elections. We're very proud of that partnership," Salit said at a joint press conference with Carrion. "I think what Mike was able to do as mayor is to establish there's such a thing as non-partisan leadership and non-partisan governance. I think the challenge with Mike leaving office now, is can we create a bottom-up movement in this city, which is in effect a third force." 
That third force that could have major electoral implications, as Republican mayoral candidate John Catsimatidis was quick to point out at a Wednesday press conference.  
"Well, Adolfo Carrion could naturally be the Ross Perot of 2013. That'd be great, wouldn't it?" he said outside city hall. 
Just as in 1992, Catsimatidis said, a strong third candidate could hurt the frontrunner, and make way for a Republican win this year.