A $2.7 Billion Plan to Restart Construction on NJ Megamall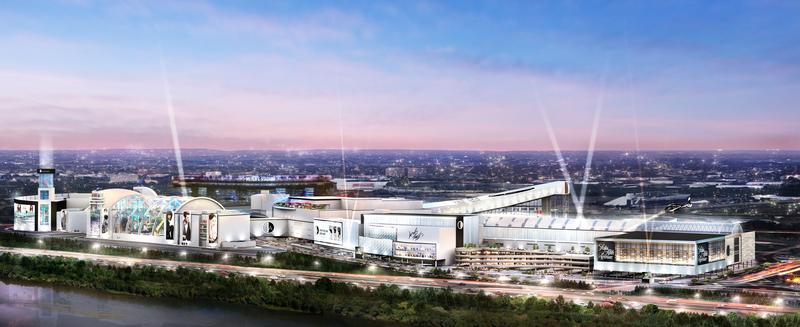 After years of delay, the developer of a planned 2.9 million square foot shopping center known as American Dream has begun to explain how they plan to finish construction. American Dream is located in the Meadowlands along the New Jersey Turnpike and its idled cranes have become an eyesore for some New Jerseyans.
On Tuesday, New Jersey's Sports and Exposition Authority voted to advance a motion to help the developer, Triple Five, borrow up to $1.1 billion dollars through tax-free government bonds. Following the NJSEA vote, Triple Five's vice president for development Tony Armlin briefed reporters on Triple Five's plans: 
> $1.1 billion will be raised through government bonds authorized by the NJSEA and issued by the Wisconsin Public Finance Authority, with Goldman Sachs as the underwriter. As much as $390 million of this debt will be repaid through sales tax receipts that would otherwise go into state coffers.
> Triple Five is also seeking to borrow $1.5 billion from private investors. JP Morgan Chase and Deutsche Bank are the underwriters. Armlin wouldn't comment on the interest rates investors are asking.
 >Triple Five is investing a "substantial" amount of its own money (Armlin wouldn't say how much).
 >Construction could begin as early as September, employing thousands of workers. Triple Five expects American Dream to open to the public in October 2018.
Several more government entities must give their OK before the tax-free bonds can be issued.
Before voting in favor of the bond resolution, one commissioner, Robert Yudin, noted that the bonds are classified as non-recourse, meaning New Jersey taxpayers won't be on the hook if Triple Five fails to repay its lenders.