Love Stinks: A Valentine's Day Tour of the City's Sewage Plant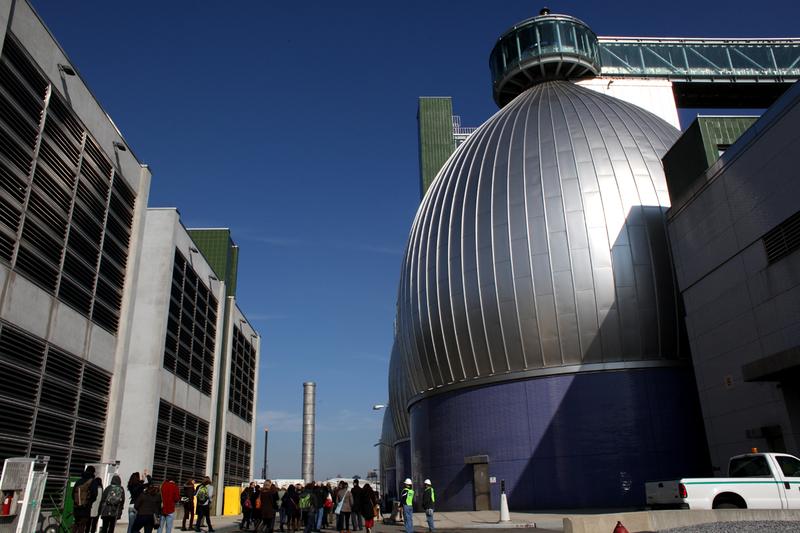 "Only our love hath no decay," the Renaissance poet John Donne once wrote, and in Greenpoint, Brooklyn, at the city's largest waste water sewage treatment plant, couples came to prove it.
The Newtown Creek Wastewater Treatment Plant Visitor Center, at the end of an industrial strip, is where the wafting odors of waste turn the air from foul to putrid. It's there that Lowell Hershey, 65, and his wife Grace Paradise, 55, both professional musicians, arrived for a Valentine's Day tour of the facility.
"Why not enjoy what New York has to offer?" Hershey asked. "If sewage is one of the things, why not?"
Last Valentine's Day, the couple went to White Castle for the fast-food chain's table-service special.
The first portion of the tour at the facility is led by the plant's superintendent, Jim Pynn, who said he came up with the idea for a couple's tour last year, when the facility began giving public tours on February 14.
"We're able to open up and show people what really goes on when their go, goes," he said.
If that doesn't get the heart racing, Pynn's lecture on the history of sewage treatment in New York might — from chamber pots dumped onto streets, to the state-of-the-art machines at the facility that break down waste in massive onion shaped stainless domes known as Digester Eggs.
The plant is capable of processing 300 million gallons of waste water a day. It's the largest of the city's 14 wastewater treatment facilities and processes waste from Manhattan and parts of Brooklyn.
After the lecture, plant workers lead visitors to the bowels of the Digester Eggs, where, chances are if you flush a toilet in the city, your waste ends up here.
Charlotte Bell and Jason Musso are graduate students at the New School, are there for a class, not a date. But they both agree a facility tour would be a memorable romantic rendezvous.
"Maybe you want to have dinner afterwards, not before," Bell said.
"Yeah, meet up here, finish, then take a shower, then have dinner, Musso agreed.
The climax of the tour is the 360 degree view of New York and Brooklyn 120 feet atop the Digester Eggs.
As the first group filters out, Shawn Killebrew and his wife Courtney Kendall are in line for the next tour. They've been married for 10 years. Killebrew knows his wife hates Valentine's Day, but he still wanted to surprise her.
"I thought this was a nice anti-Valentine's Day, Valentine's Day," he said.
"It is," Kendall said. "Thank you."
Signs atop the Digester Eggs at the Newtown Creek Wastewater Treatment Plant in Greenpoint, Brooklyn (Stephen Nessen/WNYC)