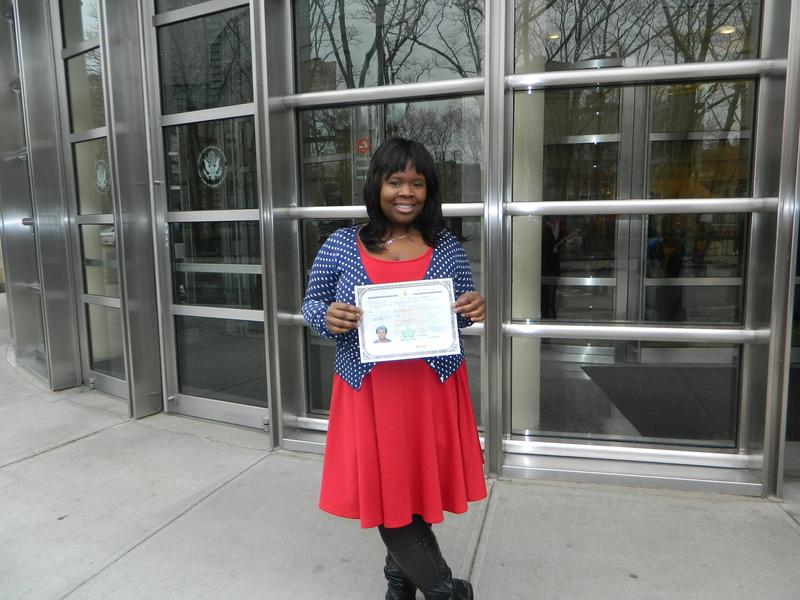 Veralyn Williams' "path to citizenship" started back in 2004 when she sat down to fill out her financial aid forms for college. She'd hoped to apply to a Traditionally Black College - something like Hillman University depicted in the Cosby Show spin-off A Different World. But when it came time to fill out her application, nine blank spaces stopped her from ever sending it in — she'd found out she didn't have a social security number.
Veralyn was born in Sierra Leone, but grew up in the Bronx and had no legal status in the U.S. At the time she reported her story for WNYC's Radio Rookies. She said then: "Though I've lived in America all my life, technically it feels like I don't exist. I never thought I'd have fewer rights than my younger sister and brother, who were born here."
Veralyn received a green card in 2006, and was finally able to see Sierra Leone for the first time since she was an infant. During her last trip she went with her mom, who was visting after being away for 25 years.
Recently Veralyn was able to apply for citizenship and has this report on what it means to her to finally become an American. She knew her life would be easier  - no more hours of pulling together documents for travel visas - and she would be able to vote, but she wasn't sure she would feel different.
On the day of her swearing in ceremony, she put on her red, white and blue dress and traveled to a Brooklyn courthouse, "The ceremony took hours, but it wasn't until I walked out with my citizenship certificate that I finally felt claimed."
In order to become a naturalized citizen, applicants must answer a series of 10 questions about American civics and history. How do you think you'd do? Take our quiz, based on the U.S. Citizenship and Immigration Services test. Or see the official list of USCIS questions.