Causes of Sandy Flooding Rooted in Over Development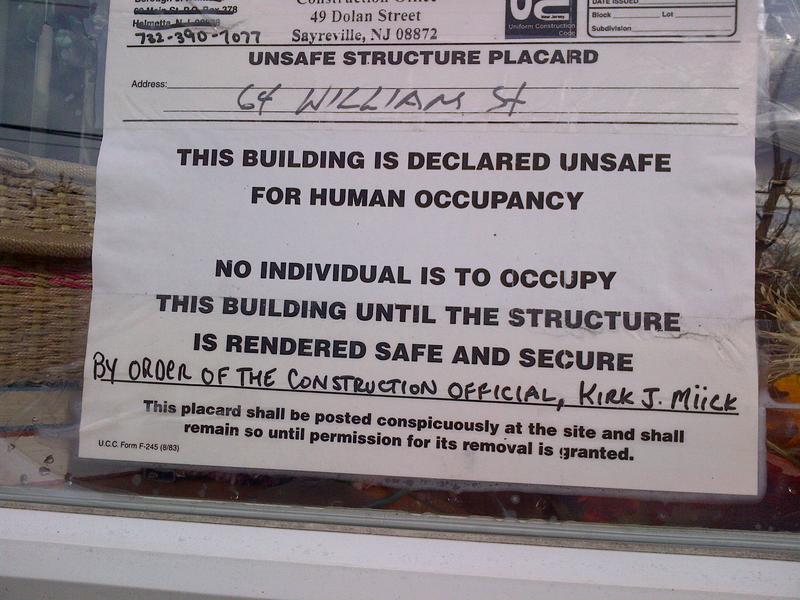 New Jersey officials, led by Governor Chris Christie, have repeatedly cited the state's "Blue Acres" program  as a viable option for dealing with neighborhoods that were badly flooded in storms Sandy and Irene. The program buys property from homeowners and converts the area to a park. But for the thousands of New Jersey residents looking for a buyout, Blue Acres might as well be a unicorn.
Just as along the coast, inland neighborhoods have to sort out if they want to stay and fortify or lobby for a government buyout. For many who have suffered chronic flooding and can't afford another $50,000 to raise their foundations, they're stuck with homes nobody wants to buy.
"I didn't have flood insurance or homeowners insurance cause I couldn't afford it and it is an old house," Old Bridge resident Ted Mosulak said. He grew up in the house, and now that both his parents have died, the house has sentimental value. But he's been flooded out before and he says if it happens again he consider a buyout.
A New Jersey blue ribbon panel convened by Governor Christie after the catastrophic flooding from Irene found that in the Passaic River basin alone, some 6,000 homes are facing repeat sever flooding. That panel calculated that to buy those homes would cost $3 billion, which is still cheaper than a massive flood water management project.
 But so far, since the Blue Acres program was established in 2007, only 200 homes have been purchased and the $36 million dedicated to the state fund is gone.
Although Gov. Andrew Cuomo is proposing an aggressive incentive program to encourage homeowners to take a buyout and revert flood-prone properties to wetlands, his New Jersey counterpart says he's counting on federal Sandy Aid so the voluntary Blue Acres program can make more "aggressive" offers.
 "I believe that still has to be an individual choice," Christie told reporters the evening after he toured Sandy's aftermath with President Obama. "I don't think that is a governmental choice. I don't think I should be condemning that property and moving them out in a mandatory way."
 But last week, more than a hundred days after Sandy hit, Governor Christie was admitting that leaving it up to individuals entirely could limit the ability to prevent flooding on a large enough scale to be meaningful and worth taxpayers support.
 "It doesn't help to buy one house at a time. You really need the commitment of an entire neighborhood saying "ok, we need to leave."
And while Christie still says the program should remain voluntary, he now is saying condemnation, the same process the state uses when it wants to build a road through private property, is an option in the state's "tool kit."
"I still am not a fan of condemnation," Christie said. "I think it should be an absolute last resort to kick people out of a neighborhood where they say they want to stay and to take their property rights." 
 But even if the state were to take action to buy and tear down flood-damaged homes, there has been no attention paid to what is causing inland flooding in the first place.  Environmentalists, land-use planning advocates and even the US Army Corps of Engineers say inland flooding is a consequence of decades of local building decisions that have filled in wetlands, clear cut forests, and paved over farms – oftentimes sending water away from one town and flooding another.
No where has the loss of wetlands been felt more directly than in  Richard Barera's neighborhood here in the Old Bridge section of Sayreville,  next to the South River, a tributary  of the Raritan.
Barera's street was hit so badly by Sandy, that it was one of the first places Governor Christie came to visit. It was the third time in a year Barera, a disabled veteran, his wife and four kids were flooded out. Today there is a Century 21 for-sale sign out front.
"I want out of here. Everybody keeps telling me it is not going to get deeper--it's not going to get deeper," Barera said. "That's what they said last year. Here it is this year and we got twice as much, four times as much." 
This neighborhood is several miles inland from the Raritan Bay that empties out into the Atlantic Ocean. Sandy delivered an eight-foot storm surge from the ocean plus run-off from upstream development.
Long-time resident Frank Mazzaroni says the chronic flooding can't be just blamed on side effects from global climate change.
"But do you put all of what's going on in this neighborhood, or this river,  solely on weather change," said Frank Mazzaroni, a longtime resident of Old Bridge. "Or is it an effect from too much building  along the river--elimination of swamp lands and overflow areas. Mazzaroni points to a residential complex across the street called Winding Woods. The soil that was soaked up rainwater now sends run-off onto his block.  
"And this little neighborhood is a natural flood plain and so when you built these homes you had to fill it because they were wetlands," said Debbie Mans, an environmental attorney who leads the New York-New Jersey Bay Keeper.
"I think in New Jersey every town looks at   what is best, quote, for their town   and not necessarily the town down river from them," Mans said.
New Jersey's over-development is not just fueled by towns looking for more property tax revenue, Mans said, but also by political corruption.  In 2009, a federal sting resulted in the arrests of more than 40 local officials who offered to take bribes in exchange for helping a developer with permit and zoning approvals.
"When you look at some of the indictments that have been handed out recently  like in Hudson County   it is about land use and development  and building. It really is incredible," says Mans. 
 The corruption of the local land use process has been well documented. Back in 1992 the State Commission of Investigation zeroed in on criminal conspiracies involving local officials in eight of the state's 21 counties.
In addition, campaign contributions documented by New Jersey's Election Law Enforcement Commission show how much the real estate industry and building trades donate to local, county and state elected officials. In 2011, PACs funded by these development interests gave $5 million to state, county and local campaigns.
But even the federal government's response to flooding, through the Army Corp of Engineers, is changing its methods.  The agency once relied on building multi-billion dollar projects that diverted water with concrete structures.
"As we move forward you really got to take a look at where you are building and stop building in the flood plain," said Colonel John Boule.  "Then we've got to find solutions for the problems that already exist."
Some 56 of the 60 households in the Old Bridge section of Sayreville say they +would take a buy out. But at the end of William Street, Deanna Glova, who bought her home as a single mom 17 years ago is not one of them. 
"I enjoy living here. I live at the end. This is my nature preserve," Glova. "If you look behind my house, it is all mine. It's not literally, but it is my area. It's beautiful."
For many of the Old Bridge residents, before Sandy hit they were facing financial trouble, stuck with mortgages on homes they can't sell and unable to pay for federal flood insurance, after it jumped from $360 dollars a year to $3,600 a year.
While Blue Acres might not be a popular option in more affluent communities, in Old Bridge it's seen as a lifeline. So much so, that Sayreville Mayor Kennedy O'Brien has hired a consultant to insure his residents know how to navigate the program.